Why a Great Website is Important for Your Automobile Dealership?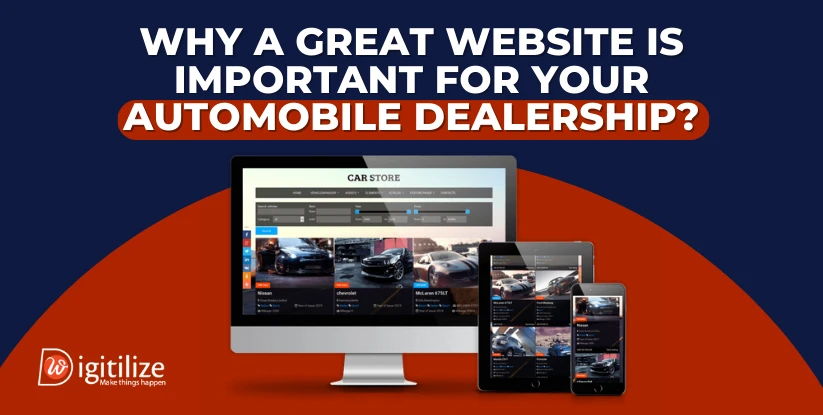 Today's highly dynamic industry urges us to discuss this very important matter of why a great website is important for your automobile dealership. Prior to the COVID-19 outbreak, consumers relied increasingly on the internet for car retailers. Online resources are now more crucial than ever in the age of social estrangement. This powerful marketing technique may distinguish between a buyer who is just browsing and one who genuinely wants to buy a car. According to statistics, the average auto buyer spends roughly fifteen hours looking for a vehicle that is spent online. As a result, your website should be very educational, entertaining, and successful in generating leads. So, this article will discuss why a great website is important for your automobile dealership.
Website vs Traditional Car Sale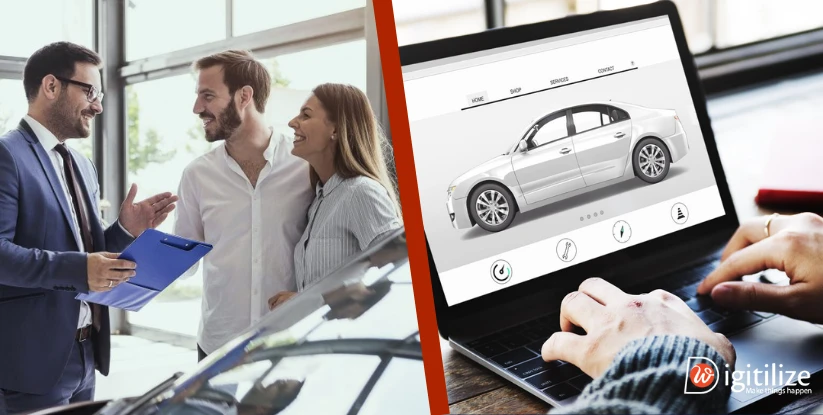 The advantages and disadvantages of conventional vehicle sales are indisputable. Similar principles govern how car websites work. The latter, however, is more in keeping with the prevailing car trends. Let's examine some of the most significant distinctions between the two.
Thanks to e-commerce, customers can see, choose, and compare a range of car models and brands. In conventional automobile sales, customers may only select one manufacturer or dealership at a time. Because of eCommerce in the automotive industry, retailers enjoy an edge in online car sales. Using the conventional sales method, customers may test drive cars in person, but with e-commerce for automotive merchants, the cars are placed online so purchasers can evaluate them using virtual shop technology.
After making a typical auto purchase, customers are required to drive the vehicle away from the dealership. They can select to have an internet item delivered directly to their door, though. Digital channels provide simpler and faster payment and negotiation processes than traditional ones. Both approaches have benefits and drawbacks, which merchants may shrewdly and successfully exploit to their advantage.
Why is having a nice website crucial for your car dealership?
Gaining an advantage in the market and assisting you in reaching the top requires understanding the trends pertaining to the automobile retail industry and reacting accordingly. The transition of the buying and selling procedure from conventional showrooms to automobile websites has been quite advantageous for automotive merchants. As a result of this modification, vehicle sales have increased dramatically.
Personalized user experiences
Automotive businesses and dealerships are better equipped to shape their customer experiences in a way that is consistent across the board and less prone to salesman-dependent variations using a website strategy.  A business may enhance the purchasing experience using a website by adding features like a customized ecommerce site or independent stores. In order to assist customers in identifying the new car or automotive components they need, businesses may use digital and targeted advertising. 
Customers may browse product information and product pages, purchase auto components, and examine several automobiles and brands at once in a showroom as opposed to just one car or brand at a time. The automotive website manages and keeps an eye on everything.
Following the epidemic, the omnichannel sales strategy has reenergized a number of businesses in the UK, and the automobile sector is no exception.  The omnichannel strategy synchronizes the efforts of a local dealership and even an internet store, as opposed to their separate silos. Customers interested in a vehicle may examine it online and schedule a test drive before making a purchase.  In the end, this broadens the range of alternatives accessible to customers and dealerships along the conversion route, boosting potential revenue and enhancing user experience.
For automotive firms, the internet has brought a big change that has affected how they see their own supply chains as well as how they have expanded their markets. 
When a car is sold, it is left on the lot, wasting valuable space. This is the traditional dealership approach. However, thanks to an internet purchasing approach, businesses may now increase their inventory to include cars that aren't on lots but rather in factories.  Organizations may reduce the number of dealerships they have by using this technique, which also saves them money on lot and real estate costs. When buying an automobile, it provides clients with a wider range of possibilities.
Including Emerging Technologies in Integration
Emerging technologies like electric cars (EVs) and autonomous driving capabilities should be included into your website. This flexibility presents your dealership as progressive and customer-focused.
Taking on Competition in the Digital Market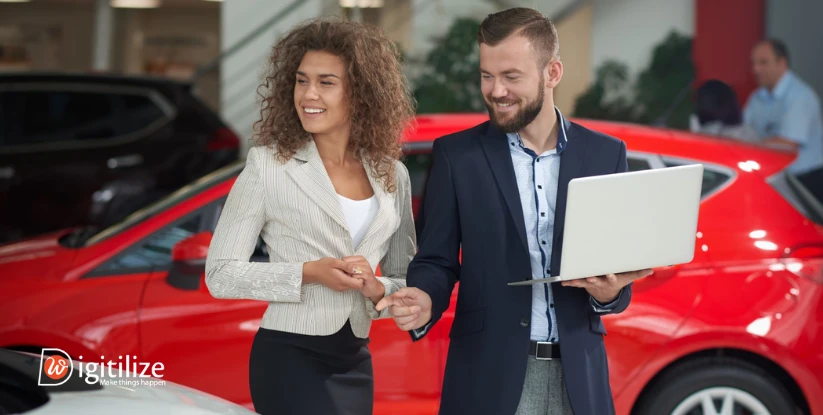 Given how fiercely competitive the automobile sector is, dealerships are using digital marketing as a tool to compete for consumers. Your car business needs a fantastic website if it wants to remain competitive and current. This is another reason why a great website is important for your automobile dealership. 
You should invest in your online presence since your rivals probably are. In addition to leveling the playing field, having a top-notch website can provide you with a competitive advantage. Before making a purchase, customers frequently shop around online at several dealerships. In a congested market, a well-designed, user-friendly website may help your dealership stand out and draw clients who are searching for a simple and dependable purchase experience.
Tracking customer behavior
You may monitor user behavior on your website using programs like Google Analytics. This information displays the cars generating the most interest, how long visitors remain on your website, and which pages they engage with most frequently. Your inventory management and marketing tactics can be guided by this information.
Contact forms and live chat
Communication with your audience may be improved by providing live chat assistance and contact forms that are simple to use. Customers may use these technologies in real time to ask questions, get support, or request more information, which promotes trust and raises customer satisfaction.
Building trust and awareness via branding requires consistency. The branding components of your dealership, including logos, color schemes, and messaging, should be reflected on your website. Customers connect with your dealership more confidently and comfortably when your dealership's brand is consistent online and off.
Conclusion
A website may still benefit your business, even if you solely operate a physical and-mortar store serving neighborhood clients. Any company looking to stand out in the contemporary marketplace has to monitor its rivals and have a website. Expertise is needed to create a quality website for your company and optimize it for search engines. To create a successful website, you may collaborate with seasoned website designers and engage the best developers.
A reputable
web design and development company
is
DigitilizeWeb
. We provide thorough and affordable online solutions to our clients, enabling them to take advantage of the Internet's extensive reach.