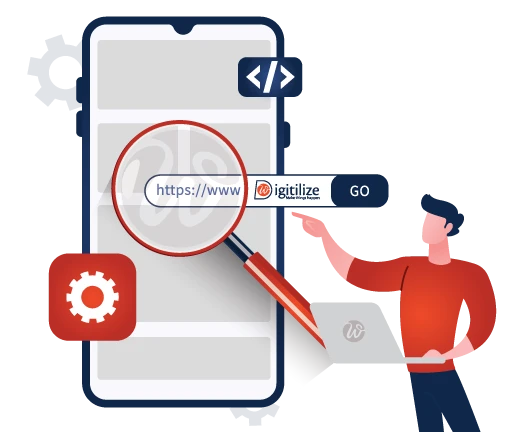 Looking for mobile app developer in the UK?
If yes then DigitilizeWeb is the perfect partner for enterprises like yours! Whether you want to hire iOS developers or Android developers to work on your project exclusively, our recruiting strategy can help. We are experts in deploying mobile app developers on hire with the flexibility to manage projects remotely. It's important to think carefully before choosing to hire dedicated mobile developers for your dream project because they'll be building a key part of your company.
Our mobile app development team is always ready to create high-quality, nimble apps that satisfy your particular needs.
DigitilizeWeb chooses to provide a great user experience by utilizing the latest technology and best practices.
We collaborate with our clients to make sure that the outcome of our work meets the aim of the client's business objective.
Our flexible pricing options ensure that you get the best possible value for your money, no matter your budget or requirements.
Hire top mobile app developers from us who are available around the clock to respond to your questions.
Hire a mobile app developer and make your app live!
You can launch effective, and personalized apps when you hire someone to make an app. Pick one of our experts who is proficient in a variety of programming languages if you want to construct feature-rich and practical mobile applications. Our adaptable engagement methods enable you to collaborate closely with distant app developers to complete your project. To facilitate client communication and the development process, we also cross time zones. Apart from that we also follow the four best steps.
We start the process by having a detailed conversation with the client over the phone or via email to narrow down the process.
Once the preliminary step is over, our developers will begin working to match you with the ideal applicant of the greatest caliber and technical competence.
To verify compatibility and functioning, thoroughly test the app on a range of hardware and operating systems. To evaluate user experience, do usability tests. Address any problems that came up during testing.
Released the app! Keep the app updated and supported to ensure its life and commercial success.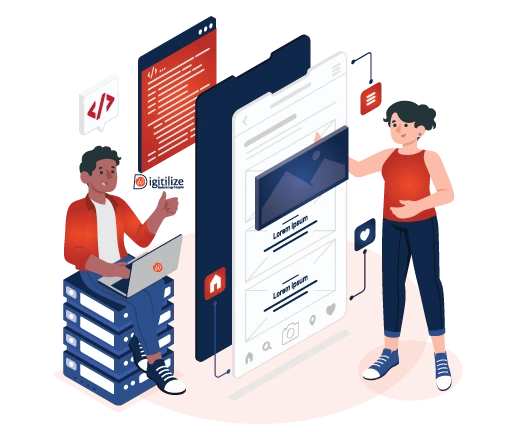 Find app developer who has strong tech expertise
A complete mobile application is essential for everyone, regardless of size, from startups to large-scale corporations. Therefore, hire mobile app designers is essential; otherwise, the gap between innovation and quality would be worse than anticipated. It helps with future planning of the application to understand how app developers operate and what technologies and platforms they utilize. Here are our tech expertise:
Android: With the ability to create highly scalable Android apps, our team of top Android developers is unmatched.
Ios: Swift and Objective-C are the most often used programming languages when creating iOS apps.
React Native: Our team of React Native programmers uses cutting-edge tools and technologies to produce high-quality cross-platform applications.
Flutter: Our Flutter development team has experience utilizing the framework to build cross-platform apps that behave and appear like native apps.
Hybrid: We take pleasure in creating hybrid mobile applications of the highest quality that integrate the benefits of both native and online applications.
Hire a mobile app developer and get top-notched services
We at DigitilizeWeb provide a variety of services to assist companies in developing, testing, and maintaining their mobile applications. Our talented team not only develop a mobile app but also check the quality and offer date services.
We apply the best technology and trending features so, that the app can work and looks perfect. Furthermore, we make sure the software is tailored to work well on the particular platform.
Hire application developer who can make sure that your mobile app runs without a hitch across a variety of hardware, operating systems, and screen sizes. We evaluate your app's performance, compatibility, usability, UI/UX, and features.
If you want to update or redesign your app at an affordable price then we can be your best partner.
We also provide all the technical assistance, advice, platform support, integration, and other services you require.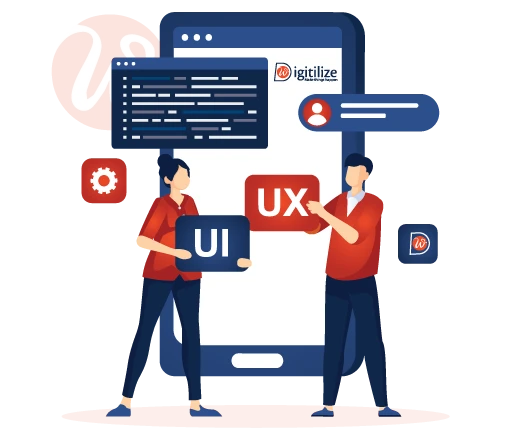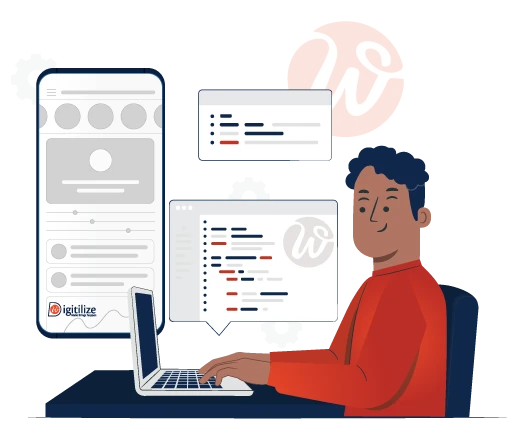 Why you should consider our developers?
An ongoing process that involves gradual final result refining is the creation of mobile applications. Users' interactions with your product will vary as a result of new gadgets and technology, as well as adjustments in their needs and behavior. So, when working with us, you can be sure that you'll have the tools you need and tried-and-true methods to handle these issues.
Our mobile app developers have the know-how to swiftly grasp any procedure and can integrate it into any current app development procedure.
We are able to produce a fully working solution on schedule because of our developers' extensive industry knowledge.
Easily manage your project with the aid of our knowledgeable and experienced project managers.
Receive frequent updates anytime you choose using the communication methods of your choice.
Hire app developer from us and get a new level of your business
We don't only write code; we also offer insightful suggestions. This suggestion is for the design stage and to create solutions to improve user experience and performance in the creation of mobile apps. DigitilizeWeb makes sure that whether you're a start-up, a growing SME, or a blue-chip enterprise, our developers are here to deliver the best outcomes for you. We will give you the best services if you hire app developers from us, so feel free to be at ease.