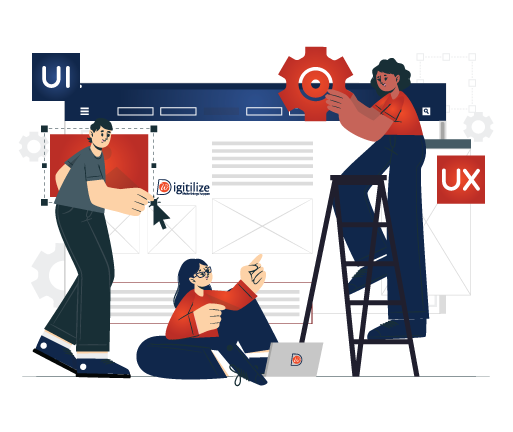 Need digital graphic designers? Let our team of experts help you!
High-quality graphic design is becoming a vital tool for any company looking to expand. Good graphics are essential to capturing visitors' attention, whether used in infographics, website graphics, or social media photos. DigitilizeWeb provides extensive graphics design services to help businesses succeed by effectively communicating their message via eye-catching visuals. We establish an emotional connection between your brand and the public via precise definitions of your mission, identity, and position. Hence, this helps people trust you and become loyal customers.
By creating graphic and design that precisely speak to your target demographic, our talented UI/UX designers will assist you in boosting your visitors' engagement.
In addition to designing websites and brochures, we also provide a wide range of other services.
Our talented graphics design team produces eye-catching images that will propel your company to new heights.
In order to be successful, we put the same level of passion, strategy, creativity, and focus into every project we do, no matter how big or small.
Long-term relationships with visionary clients are important to us, as we recognize the value of a consistent brand experience.
Our Top Services
Our graphic designs agency now has the best design team, which guarantees innovation to help you get the most out of your goods and services. The advertising section supplies a collection of leaflets, flyers, brochures, folders, and corporate identities such as business cards, proposals, and envelopes.
Personalised website design and development for small, medium, and large businesses allows you to interact with your target market.
We can create product catalogs that effectively and aesthetically present your business's offerings to both present and future customers.
Present complex ideas, enormous numbers, or substantial amounts of data in an eloquent, comprehensible, and straightforward manner using infographics and animated presentations.
We provide brand marks, monogram logos, internet logo designs, and logo design services to businesses. Our graphic designers create logos that improve online presence.
By creating designs that precisely speak to your target demographic, our talented UI/UX designer will assist you in boosting your visitors' engagement.
Our area of expertise is designing brochures, flyers, product catalogs, corporate profiles, and other print designs.
We create and supply professionally printed brochures. An effective brochure increases the company's marketing worth.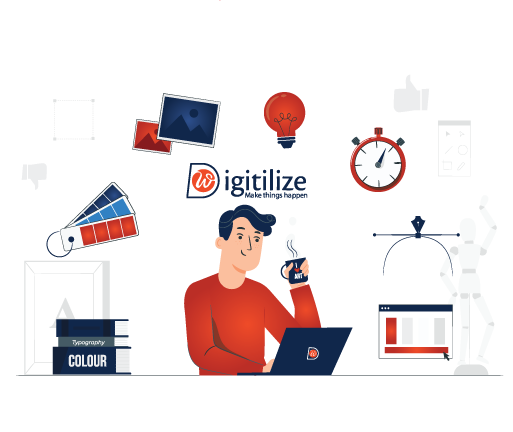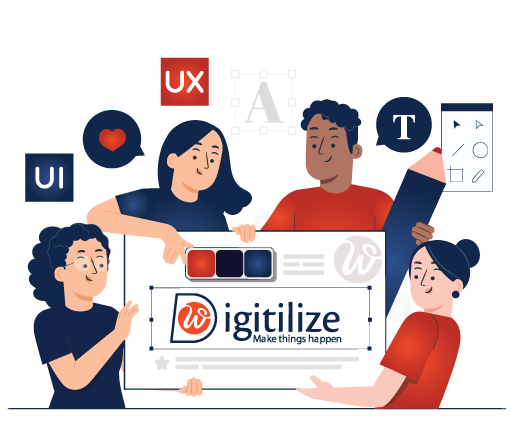 Creative Work Process That We Prefer
There are various ways to make any project successful but we choose the best. Our work process is simple but creative. So, here is the step-by-step process:
Before we begin creating, we have a complete grasp of your brand's objectives and target audience. Our graphic design services are based on brand expertise that creates a unique, exceptional, and widely visible brand for you.
Our designers look at every option to deliver a unique idea that elevates your brand positioning and sets you apart.
By listening to what our clients have to say, we can finish the project in a way that makes us happy.
A brief analysis is done after client meetings, market research is performed, concepts are sketched, concepts are built on, concepts are presented to the client, and then the final files are sent.
Why Choose DigitilizeWeb?
Over the years, DigitilizeWeb has given us the chance to collaborate on a variety of projects. Having eye-catching visuals, communicating concepts clearly, being more visible, and being more trustworthy all contribute to increasing brand traffic. More opportunities result from more traffic. Excellent graphic designer in the UK may help a business gain a lot of exposure, which can increase sales.
Improving the navigation and usability with the help of personalised visuals that represent the business identity.
This forces the visitor to move about a website, which increases audience retention and conversation by a large margin.
Our highly customised approach considers your target market, target brand personality, and particular design preferences.
We guarantee on-time delivery of your project without sacrificing quality thanks to our efficient design process and skilled project management.
In order to keep you aware and active at every stage of the design process, we maintain open channels of contact. Hence, our top goal is to make sure you're happy.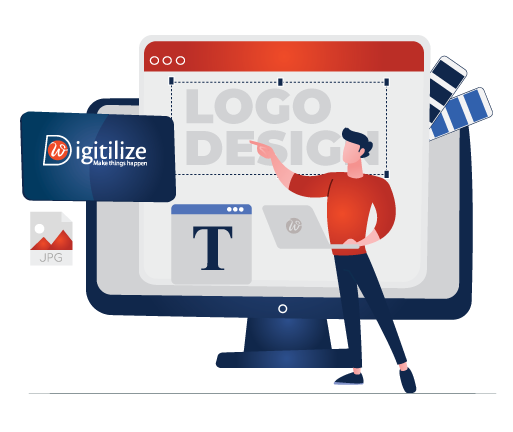 Take your graphic design game to the next level, contact us!
Our dedication lies in helping businesses across many sectors produce higher conversion rates, a devoted clientele, and quality leads. We provide follow-ups on a regular basis to ensure that the work is completed on schedule and that the designs are approved. We are the perfect fit for your brand since we always deliver our projects ahead of schedule. Additionally, DigitilizeWeb guarantees that you will receive a just return on your investment by offering quantifiable and guaranteed outcomes. Therefore, please get in touch with us if you have observed how your thoughts got lost!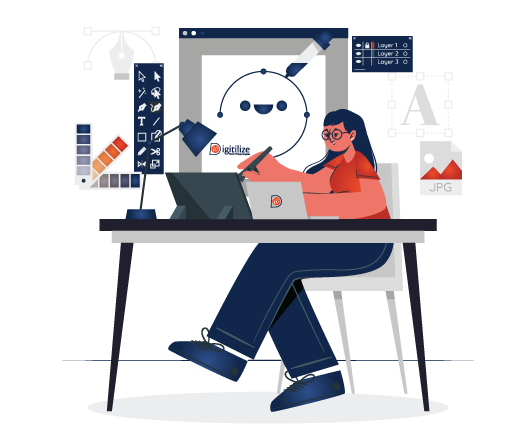 Frequently Asked Questions
Designers use consistent color schemes, typography, and branding elements to maintain a cohesive look across various materials and platforms.
Contracts and agreements typically outline the transfer of intellectual property rights. Clients often gain ownership of the final designs upon project completion.
Yes, graphic design plays a crucial role in creating visually appealing social media content, including posts, ads, and banners that align with brand identity.
Client feedback is integral to refining the design. Designers usually include a specific number of revisions in their service packages, with additional revisions incurring extra charges. Clear communication helps streamline the revision process.
Responsive design ensures that graphic elements adapt seamlessly to different screen sizes, providing a consistent and user-friendly experience across various devices.
Yes, heavy graphics can slow down page loading times. Optimizing images and using efficient design practices contribute to a faster and more responsive ecommerce site.
Graphic design has a big influence on advertising. Businesses don't have to rely only on text-based material to swiftly communicate their message; images like logos and symbols may do the same. Furthermore, attention may be drawn to powerful pictures more readily than to text-only content.
Typography influences readability and sets the tone for the app. Choosing appropriate fonts enhances user experience and contributes to the overall design aesthetics.
Yes, we are also glad to work on smaller projects. These might include changing a logo or making tiny adjustments to a website. The scale of the project is irrelevant because our primary goal is to satisfy our clients.
Yes, we are able to create your entire stationery set and logo branding. For packages on logo design, see our website.
We don't think it's appropriate to let someone down with unanticipated expenses. Before any project begins, we always itemise all expenses and maintain open communication with our clients. We notify you of any additional fees for any revisions or changes to our packages. After you have approved any changes, the work will continue.