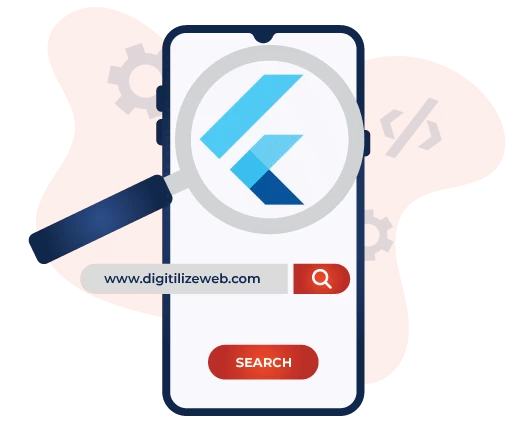 Are you searching for a flutter app development agency in UK? Let's introduce DigitilizeWeb:
Thank you for visiting DigitilizeWeb, your one-stop shop for flutter app development services. We are committed to providing high-quality, innovative, user-friendly apps that fit your business objectives. Our team is quite adaptive, so they help our clients stay updated as the marketing changes.
Our committed and knowledgeable flutter developer work with the highly dependable user interface framework's ability to produce high-quality native interfaces across platforms quickly.
We have a staff of talented developers and a portfolio of accomplished projects to prove this.
Your business objectives are met when you choose DigitilizeWeb's visually appealing and innovative apps.
What are flutter development services in UK?
An open-source software development kit called Flutter makes it simple and quick to create flutter mobile app. Without individually developing the code for the iOS and Android applications, you can easily create high-quality natively generated apps for both platforms.
Now, with the help of Flutter web development frameworks, offer your website and web applications all the strength they require.
For both the iOS and Android platforms, Flutter converts code to native ARM code using the Dart programming language. High-performance programs that seem natural on each platform are the end result.
Because Flutter draws UI components using its rendering engine rather than the native components of each platform, you can create a consistent look and feel across several devices.
Flutter prioritizes accessibility and offers built-in tools to make apps more usable for people with impairments.
Flutter is suited for creating data-driven and connected apps since it can quickly interface with a variety of backend services and APIs.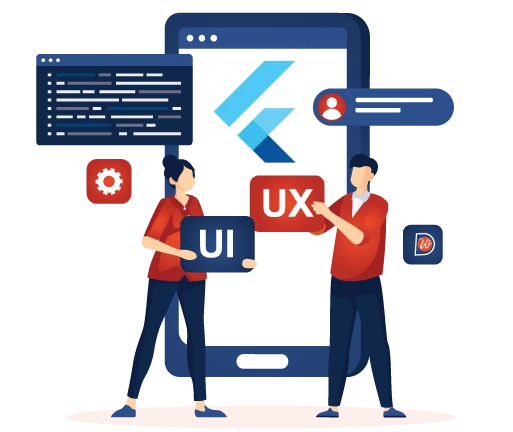 DigitilizeWeb services includes:
As a flutter development company in UK, we can create specialized apps that are suited to the specific needs of our clients thanks to our expertise in these technologies. Here are the services that we offer at DigitilizeWeb:
The distinctive feature of Flutter app development is cross-platform interoperability. Get that benefit for your application.
Our flutter app development agency has massive expertise in growing extraordinary, scalable, steady web and cellular apps.
You can rely on us to create Flutter apps that satisfy your customer needs with lovely UI, fluid UX, and ease of use.
We can help you seamlessly transition to the most recent Flutter version for improved business continuity, security updates, and performance improvements.
For an app to have the look and feel of a native one, our Flutter developers can swiftly integrate the native features of nearby devices.
We provide a variety of interaction techniques for support and maintenance services.
Reason to choose DigitilizeWeb as a flutter app development company in UK:
Work with our knowledgeable Flutter app developers to design mobile applications that are appropriate for business use. Your business will be able to take advantage of the advantages listed below by working with our very dependable and exceptional Flutter mobile app developers at DigitilizeWeb.
We keep up with the most recent Flutter app development trends and innovations to ensure your program is developed utilizing the most cutting-edge and effective methods.
We always take care of the need of our clients. Therefore, DigitilizeWeb designs apps with a customized approach, creating solutions tailored to your unique requirements.
Before the app is released, our testing team does thorough, functional, performance, and usability testing to find and fix any flaws.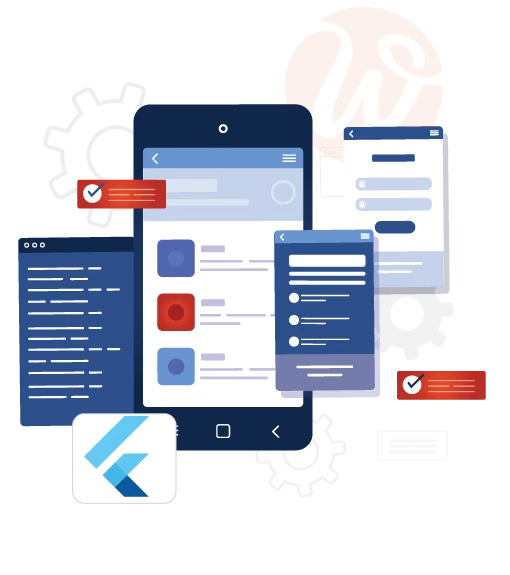 DigitilizeWeb: your go-to service provider:
DigitilizeWeb offers high-quality flutter app development services with a focus on quality, customisation, and user experience. You can access a committed team of Flutter specialists, customized solutions, prompt delivery, and continuous support by choosing our services. We are dedicated to providing your company with robust and visually appealing flutter for mobile app development to help it survive in the digital environment. To explore your app development needs and grow your business, contact us now!