What Should A Web Design Company Do for Your Business!
A web design company should make your online presence look like a million bucks! They'll create a website that's both functional and beautiful. To know how? Do check our
site
.
In the modern world, people utilize the internet to get information and find answers to their issues. What do you think drives people to visit websites? The main goal is knowledge gathering. So, if you operate in business, information is crucial. A website is necessary for your customers and clients. It should be specific about what you can do for them and how to do it.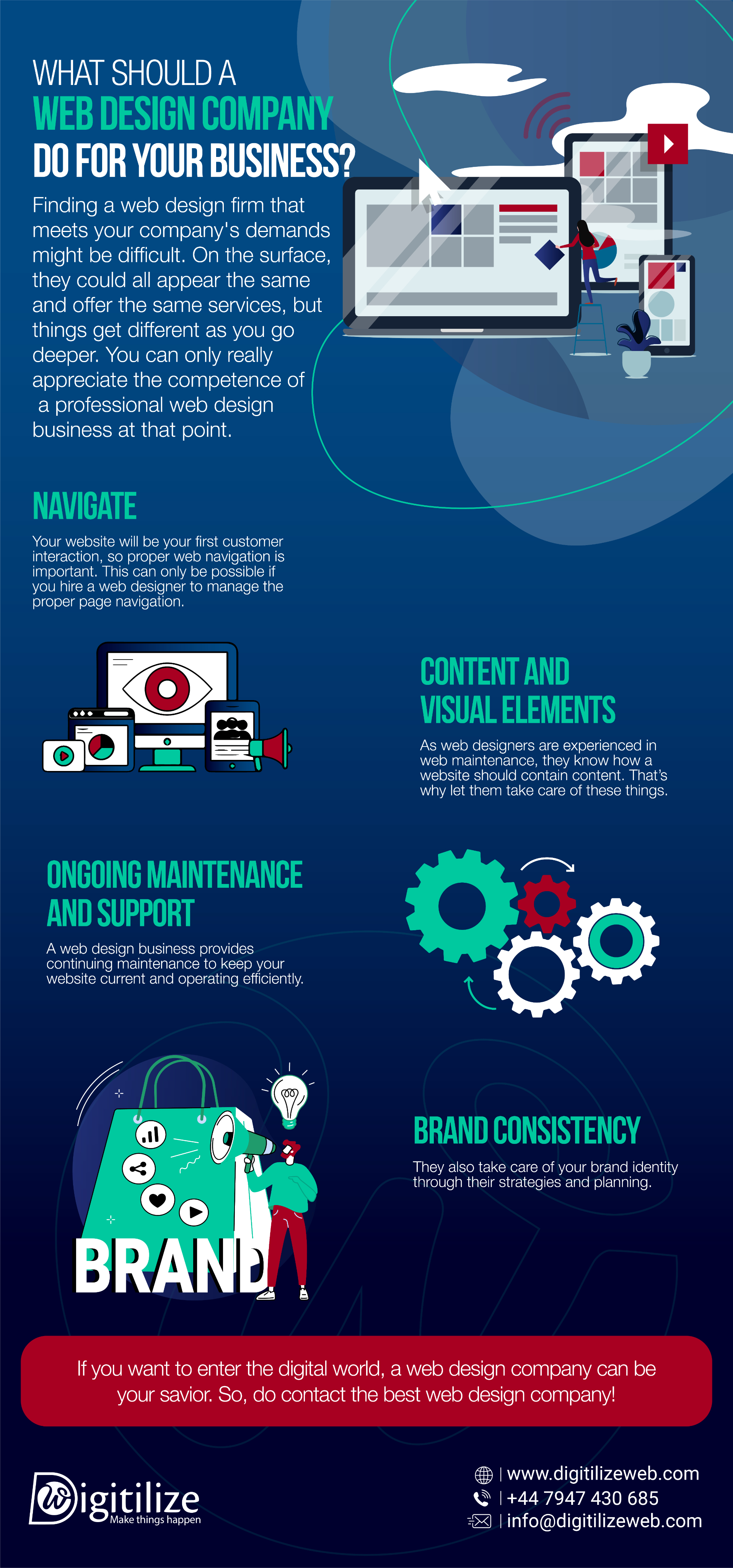 Investing in website design may bring in a great deal of money for your company, even though it can be expensive. You must work with an influential website designer who can handle the following crucial aspects of website design if you want to be sure that your investment will work to your advantage:
Importance of the designer in your business:
Designers play a critical role in assisting your organization by producing aesthetically appealing and intuitive designs that successfully convey your brand message. They are skilled in converting your objectives and ideas into visually appealing representations that pique the interest of your intended audience. A designer will ensure that your visual identity is consistently portrayed throughout several platforms, such as your website, social media accounts, marketing materials, and more since they understand how important brand consistency is. Their attention to detail, comprehension of user experience, and familiarity with design ideas can help to build your company's reputation, draw in clients, and eventually spur development and success. Let's go through this in more detail:
Navigation
A smooth user experience on your site depends on a navigation system that is simple to use and well-organized. A web design business will apply industry best practices to build simple and intuitive navigation menus to ensure users can access the necessary information quickly. They will improve the website's navigation to increase user engagement, decrease bounce rates, and increase conversions.
Content and visual elements
Other typographic features, including the font selection, are also included. Such web design elements should work together to communicate effectively with the audience. When a message is succinct and something the reader can relate to, they are more likely to remember it.  Visually cluttered pages may be challenging to read, making visitors uninterested and less likely to return. It is advisable to simplify the material so that website designers may use the text in their designs to prevent such from happening. Designers can also include negative or empty areas that allow readers' eyes to rest while reading.
Ongoing maintenance and Support
Maintaining a website safe, functional, and current takes continual upkeep and upgrades. Building a website is not a one-time activity. A web design firm will provide continuous assistance to keep your website functioning at its best. Regular software upgrades, security patches, bug fixes, and browser and device compatibility tests are all part of this. To protect the data on your website, they will also offer backup solutions and disaster recovery plans.
Brand consistency
Building awareness and trust requires maintaining a consistent brand image across all marketing platforms. A web design firm will make every effort to include your brand's visual components, logo, color scheme, and messaging in the website design. To give your consumers a consistent brand experience, they will ensure that the website accurately represents the personality and values of your company.
Conclusion
Two out of every three internet minutes are spent on mobile devices. Because flexible designs are becoming increasingly important, excellent mobile usability is essential. You must achieve this while cutting costs. Finding the ideal solution could be aided by working with the proper web development team. Hiring a reputed developer makes sense given the benefits of a strong website.