The Importance of Mobile Optimization in Ecommerce Web Development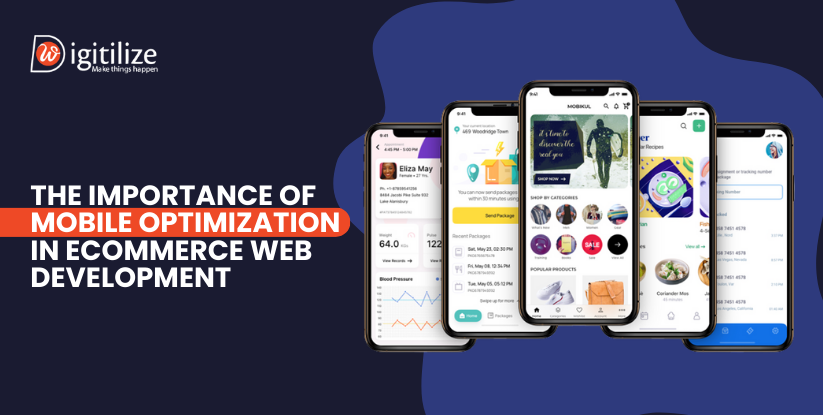 How important is mobile optimization in ecommerce web development? To find out the answer, you will need to investigate the number of individuals who make online purchases using a mobile device.
Nowadays, since smartphones allow users to access the internet while traveling or meeting friends, individuals prefer using them over PCs or laptops.  Approximately 95% of people use smartphones to browse the internet and make transactions, according to a study. For this reason, every company knows the importance of mobile optimization in ecommerce web development.
Therefore, we'll explain the importance of mobile optimization in ecommerce web development, along with some optimization advice.
What is an eCommerce website's mobile optimization?
For an e-commerce website, mobile optimization refers to creating a user-friendly, mobile-friendly website through design and development. Performance matters in this regard since a website that performs properly might attract more visitors and boost revenues. What makes a website operate well? Understanding how a high-performing website function is important while working on website optimization. However, mobile optimization for e-commerce sites ensures that your online store is fast-loading, responsive, and easy to use.
The Importance of Mobile Optimization in Ecommerce Web Development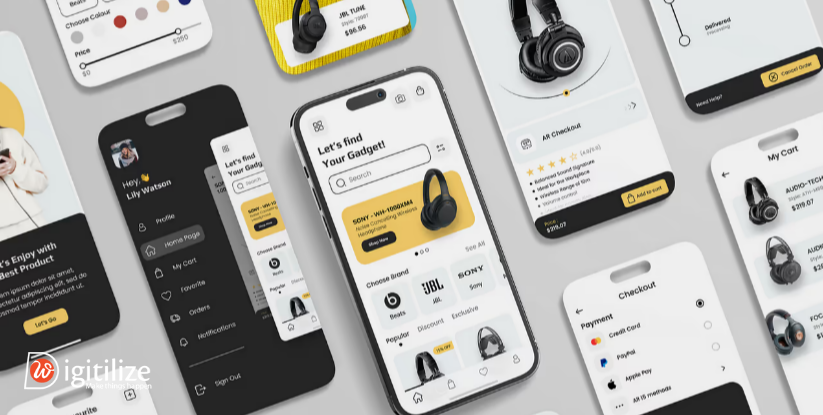 For several good reasons, mobile optimisation is essential to an e-commerce business's success. Ignoring mobile optimization might hurt your online shop in this day and age, when people's lives are centred on their mobile devices. Hence, the success of an e-commerce firm depends on mobile optimization for the following main reasons:
Shifting the Way Consumers Act
With a significant move towards mobile devices, customer shopping habits have evolved. These days, people explore, compare, and make purchases using smartphones and tablets. A sizable and expanding market segment is lost when an e-commerce website is not optimized for mobile visitors.
Enhanced Experience for Users
Websites that are mobile-optimized provide a better user experience. Your potential clients will be able to browse your items, navigate your site with ease, and make purchases with no effort since they are adaptable and adapt to multiple screen sizes. So, increased revenue and greater customer satisfaction are directly correlated with an ideal user experience.
Enhancing website performance is a common component of mobile optimization, as it is essential for mobile consumers. Pages with a slow loading speed may turn away visitors, increasing the bounce rate. You may lower your risk of losing consumers and increase your chances of generating a sale by making sure your website runs quickly on mobile devices.
When ranking websites in search results, search engines such as Google take into account a website's mobile friendliness. A website that has been optimized for mobile devices is more likely to appear higher in mobile search results, which may greatly boost your website's exposure to prospective clients and generate natural traffic.
Numerous e-commerce companies have already adopted mobile optimization after realizing its significance. Meeting user expectations and industry norms is critical for staying competitive. If you don't, you risk losing market share to rivals that provide a superior mobile experience.
Enhanced Sales and Revenue
The sales and revenue of e-commerce may be directly impacted by mobile optimization. simplifying the browsing, adding to cart, and finishing the purchasing process for clients using mobile devices. E-commerce companies may improve their conversion rates and eventually increase revenue by optimizing the checkout process and making it mobile-friendly.
The potential growth in mobile traffic is another reason that mobile optimization is critical for e-commerce sites. Over half of all visitors to
e-commerce websites
originate from mobile devices, per recent research. This implies that you may be losing out on a substantial amount of traffic and possible purchases if your website is not mobile-friendly. You can make sure that a larger audience can access your website by investing in mobile optimization, which may result in greater traffic, engagement, and sales.
DigitilizeWeb
offers end-to-end e-commerce services that are tailored to meet your specific requirements. Moreover, these services include marketplace administration, technology, marketing, and analytics. With our marketplace assistance and digital transformation services, you'll be able to take full advantage of e-commerce potential and grow your business.
How to optimize the e-commerce website?
We are aware of the importance of mobile optimization in e-commerce
web development
,  now we have to know how to do that. This article also guides you through the most crucial adjustments for your online business step-by-step. Moreover, in this way, you may increase your clientele, boost revenues, and recoup money from missed sales to visitors who leave. 
Update your web pages, landing, and product pages
Trends in e-commerce website design are always evolving. Traffic will sharply decline if you don't refresh your product pages or landing pages on a regular basis.
In addition to being an essential component of e-commerce site optimization, your landing pages are crucial for creating the ideal first impression. Therefore, your audience will land on these pages, thus it's critical that you give them careful optimization.
In the event that your landing pages and product pages are not correctly optimized, your bounce rate will skyrocket. You may enhance your product and landing pages in a number of ways:
To increase attention and entice clients, you might provide unique incentives.

Curating your best-selling goods for immediate viewing by customers on your website is another fantastic alternative.

Adding reviews to your website is a terrific method to increase e-commerce conversion rates. The views of others are more trusted than those of brands.

Use beautiful photos to highlight your goods. Present the product from several perspectives. Allow them to enlarge on the specifics.
Use personalized content
Contemporary consumers desire a highly customized buying experience. For the majority of e-commerce business owners, receiving the "red carpet treatment" is a crucial point of differentiation. You will lose sales if you are unable to provide it. You will lose sales if your customer journeys aren't tailored to your buyer profiles. The following are some easy actions you may take to optimize your e-commerce:
If your items are offered internationally or in several locations, you may use geo targeting to provide the products in the same currency or with suggestions specific to that region.

Customizing the shopping experience for your customers according to the kind of device they are using to visit your business is a crucial component of e-commerce optimization.

With the help of

DigitilizeWeb

Provide your consumers with recommendations and similar items. Product suggestions significantly increase sales.
Use Track tools
With the use of analytics tools, you may monitor key performance indicators (KPIs) and metrics to determine what is and is not effective for your shop. Additionally, you'll be able to observe which sections of your website drove visitors away, as well as which pages or features encouraged more people to make purchases.
You may improve underperforming parts to maximize your conversions by using this data. Every choice you make about e-commerce optimisation must be supported by statistics.
Ideally, you can measure customer journeys and your store's performance by integrating technologies like Hotjar, Google Analytics, and MixPanel into your website. Following are some crucial categories of information you should be aware of:
The stats and KPIs for your store.

Acquiring your primary routes for acquiring traffic.

Vital sales information, such as average order value and client lifetime value.

Any data conversion.
Optimize the mobile audiences
Mobile e-commerce demands increasing day by day, which should help you understand the importance of mobile optimization in ecommerce web development. It's evident that the rate of change has accelerated, and mobile e-commerce appears to be well-positioned for future expansion.
If your online store isn't mobile-friendly, you're missing out. As a result, you must make your online business mobile-friendly. The following actions are what you can do:
Utilize resources such as Google's Mobile-Friendly Test to assess the information and graphics on your website's mobile-friendliness. 

To ensure that there is enough room on your website for CTAs and product categories, try not to use too many components.

It should go without saying that you should always compress your photographs before putting them on your website.
Improving the user experience on your website requires e-commerce optimization. It is also essential if you wish to raise the income of your company. Take the seven actions listed above to run a successful and productive e-commerce firm.
Frequently Asked Questions
Optimising your e-commerce website is crucial since it raises sales and maximises conversion rates. By doing this, you may reach more customers and broaden your audience.
You can monitor a website's performance with the help of its conversion rate. It aids in understanding how website users behave and enables site owners to implement corrective action. Website owners may decrease their cost of acquisition and raise their income per visitor by monitoring their conversion rates.
Therefore, SEO is one of the finest techniques to increase traffic to your product and category pages. That said, let's talk about the precise actions you should take to improve your e-commerce site's SERP ranking.
Using Google Ads, you can arrange and individually market every item in your inventory with a shopping campaign. Retail companies may increase sales and save time by using this inventory organisation.
Ensuring the mobile friendliness of your website involves optimising it for mobile devices. This include examining the user experience, assets, page loading speed, structure, and design of the website. By doing this, you can make sure that mobile visitors are more likely to connect to your website.