How to tell a company that they need a new logo?
Are you ready to help a company take its branding to the next level? Check out our informative infographic on how to tell a company they need a new logo!
Do you still carry the old logo? Doesn't want to change due to fear of losing existing clients? This is valid for companies established in the past, mainly if your logo was produced based on a style that was in vogue at the time. If this applies to you, you should catch up to ensure that people perceive your brand as contemporary and relevant. However, as this article will explain, using the old logo might cause your business to lag in current marketing. As time passes, customers' choice and preferences changes with the effects of current trends and advanced technologies.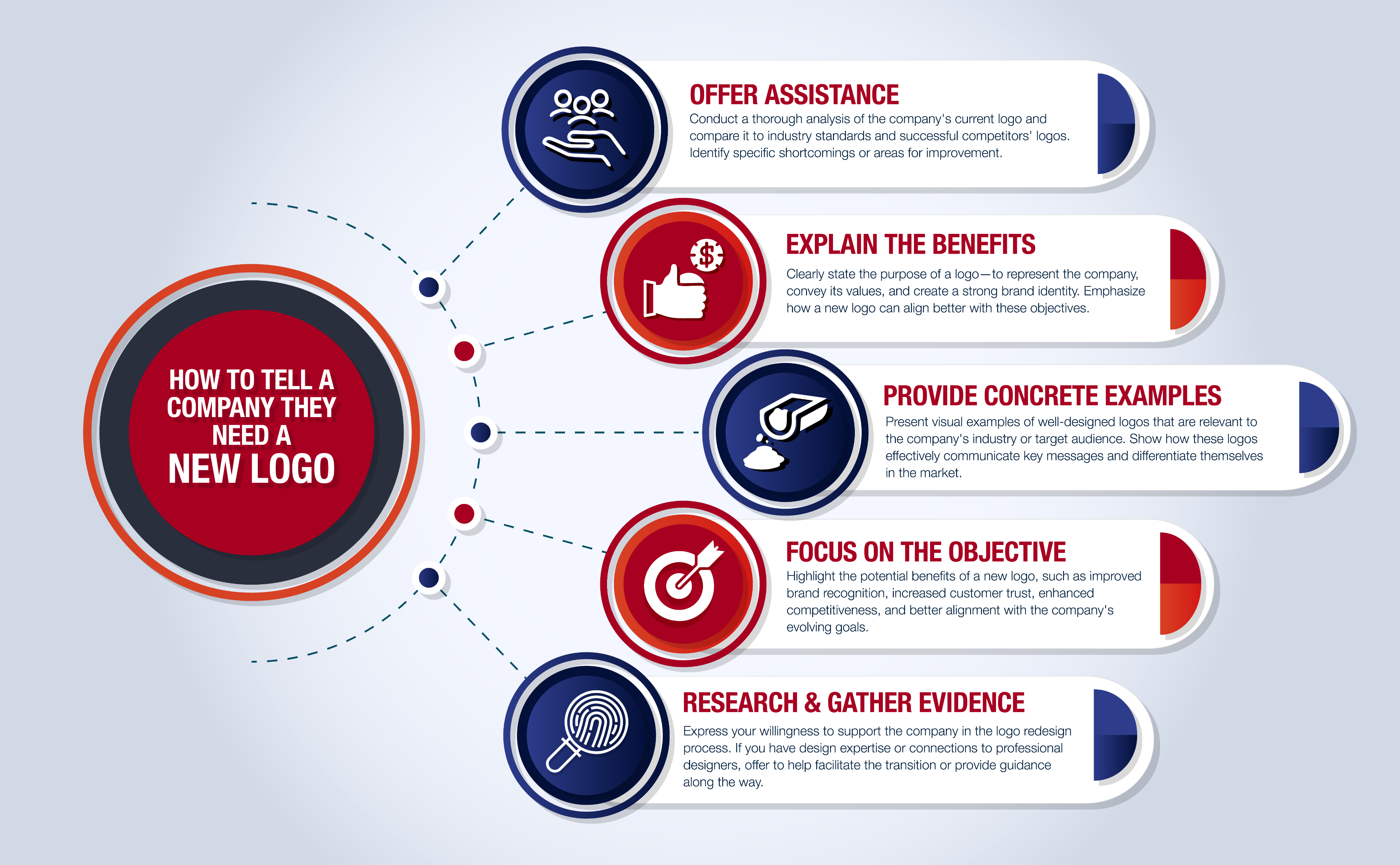 As a brand, you must thus stay up with trends to retain your current clientele and attract new ones. So, refresh your logo's design to give it new life!
It's crucial to approach the subject positively when bringing up the need for a new logo with a corporation. To help, point out the benefits that a new logo may offer:
Knowledge of professional design: It is crucial to make them believe that logo designer can represent their brand value and ethics more vividly through the logo. This new logo can help catch new visitors.
Collaborative approach: Also, make sure that the logo designer will prepare the collaboration with the brand to know more about their objective and ethics for building the logo.
Numerous advantages of a new logo can enhance a business's brand identification and competitive position:
Improved brand recognition: Firstly, the logo represents the brand, so changing the logo might get a new reputation for that brand.
Better market positioning: A fresh logo may make a business stand out and show that it values innovation, relevance, and flexibility.
Provide concrete example:
Examples that show the effect a new logo may have on a company's brand identification include:
Airbnb: Airbnb unveiled a new logo in 2014 called the "Bélo," which stands for a sense of belonging. The company's rebranding enhanced its emotional connections with clients and reflected its fundamental ideals of inclusion and community.
Mastercard: This is another example, as they want to catch up with the new trend, so they redesigned their logo in 2016. The famous overlapping circles of the new design, which stand for the brand's connectedness and acceptance worldwide, took the text's place.
When arguing for a new logo, matching your arguments with the organization's goals is essential. Be aware of their brand positioning, target market, and objectives. Give examples of how you may achieve these goals with a new logo.
For instance, if the business wants to appeal to a younger generation, emphasize how a contemporary and creative logo might help them connect with this audience.
Concentrating on the goal may convince the organization that changing the logo is a strategic move rather than only a cosmetic one.
Research and gather evidence:
Several factors might lead to a firm rebranding. If you conduct an internal poll of your coworkers, you'll gain the extra support you need. Research how well-designed logos affect brand recognition, consumer interest, and company growth.
Nowadays, people don't waste time analyzing complex things; they avoid that costs them valuable time. So, if you still carry a logo that doesn't match the current trend, redesign that to have good benefits.
You increase the possibility that the business would consider a new logo by relying on research and evidence to support your claims and to support your recommendations.
Conclusion
In conclusion, approaching a business requires a helpful and upbeat perspective regarding the need for a new logo. You raise the probability that the business will take a new logo seriously by making a solid argument with tangible advantages and accompanying data. So, try these tips to convince any company to redesign their logo for a new way of growth.