How Long Will It Take to Build a Website?
Building a website is an exciting journey! The time it takes depends on your unique needs! To know more, check out our infographic!
A website is crucial for organisations and individuals wishing to develop an online presence. The procedure has several steps, each taking a certain amount of time. The expected length of time for each stage of the website-building process is shown in this infographic by
DigitilizeWeb
.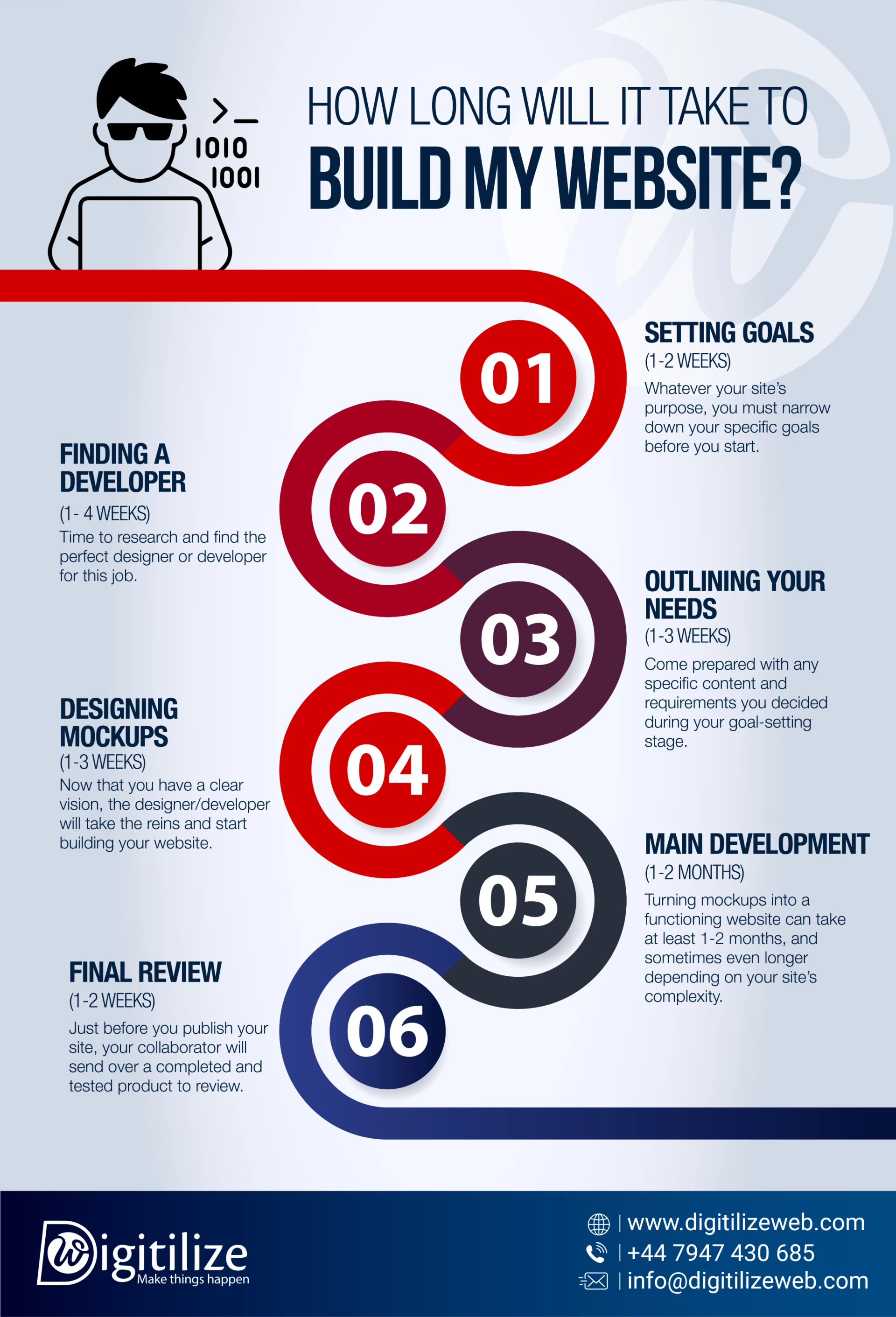 Settings Goal (1-2 weeks)
Spend some time figuring out what your website's primary goal is. For example, are you trying to sell goods, give forth knowledge, or provide a service? Your development process will be streamlined if your goals are clearly stated. Do extensive research to identify your target market and rivals. As it is critical to compile the necessary data and establish a solid basis for your website, this phase might take up to a week.
Finding a Developer (1-4 weeks)
Start looking for a capable web development company or developer. First, you must check the necessary experience, knowledge, and portfolio to
hire a resource
. Depending on the selection and availability criteria, this procedure might take one to four weeks. Talk with potential developers to determine how well they comprehend your idea. Evaluate their technical prowess, interpersonal relations, and capacity to meet your deadlines.
Outlining Your Needs (1-3 weeks)
Describe your website's functions, functionality, and aesthetic preferences with your chosen developer. Discuss elements like e-commerce integration, content management systems (CMS), and any necessary adaptations. Depending on how intricate your project is, this phase might last one to three weeks. Next, using wireframing tools, create a visual representation of the organisation and layout of your website. Doing so ensures a user-friendly interface, and the location of essential components is determined. Give this process one to two weeks to complete.
Design Mockup (1-3 weeks)
Create a website design that is aesthetically pleasing and consistent with your brand by working closely with your developer. This involves picking fonts, graphics, and colour palettes.
Web design and development
may take one to three weeks, depending on the amount of customisation and feedback cycles.  By designing user-friendly navigation, clear calls to action, and optimised page layouts, concentrate on improving the user experience. Work with your developer to create an engaging and smooth navigation user journey.
Main Development (1-2 months)
The front end of the website will start to take shape when the developer converts the design into HTML, CSS, and JavaScript. This procedure usually takes two to four weeks, depending on how sophisticated the design and functionality are. Databases, dynamic content management systems, and server-side features may all be integrated to meet your needs. The time frame, which might be anywhere between two and six weeks, can be impacted by customizations and the project's complexity.
Conduct thorough testing to ensure the website functions across various browsers and devices. This phase may take one to two weeks to complete. During this time, developers do
website maintenance
and fix if any problems arise.  Work with your developer to evaluate the website's functionality, content, and user experience. Based on your input, make any modifications and improvements that are required.
Conclusion
A website must be carefully planned, and working with a talented developer is essential. Depending on the project's complexity, customisation, and client engagement, the projected timing for each step may change. Following this basic schedule will take 1 to 3 months to establish a well-designed and helpful website. The project must be kept on track to be successful, and prompt decision-making and effective communication are essential.