Benefits of custom software development?
Looking for ways to take your business to the next level? Get ahead of the game with us! Do check our
website
!
Compared to any other time in human history, commercial transactions are currently more intricate and diversified in technology.  Business owners are beginning to choose more specialized software platforms to address specific issues and difficulties. This raises the question of the advantages of developing bespoke software and why this is the best course of action for many firms. This infographic will discuss the advantages of bespoke software creation and the distinctions between pre-made business software. DigitilizeWeb also examines the benefits of using bespoke software to operate a firm.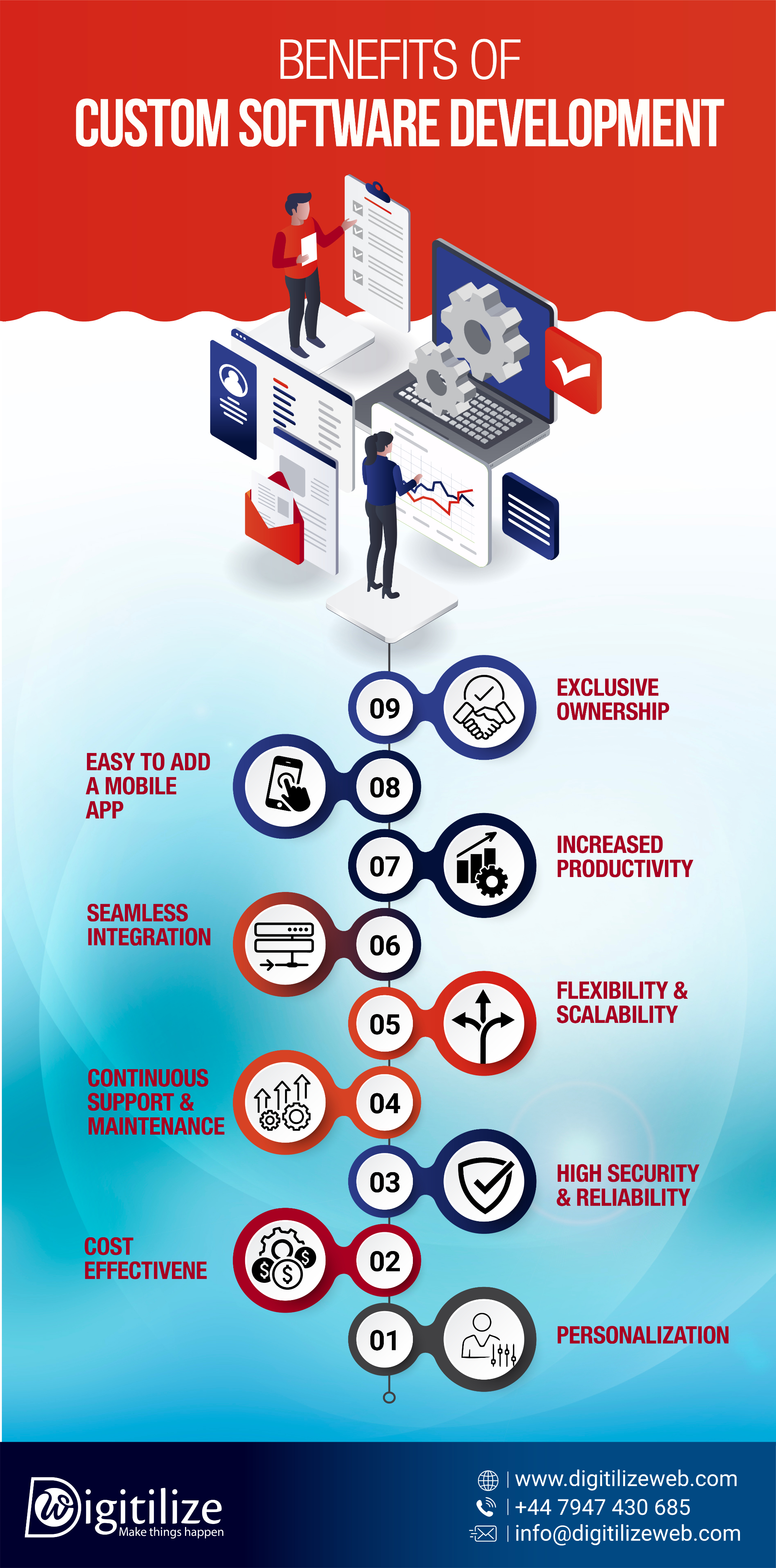 Every user or client wants to experience a personal level of service from a company. Your degree of customer satisfaction is influenced by how much you feel treated as a person. A firm adds value to the customer/business relationship by offering more individualized solutions.
Unlike off-the-shelf options, bespoke software development may involve a larger initial investment but delivers long-term cost advantages. Custom software does away with the necessity for numerous licenses or subscriptions, as well as the costs of extra functionality. Additionally, it enhances operational efficiency and decreases the dependency on manual operations, thereby saving time and costs.
High security and reliability:
Because hackers may use known weaknesses, commercial software is more susceptible to security breaches. On the other hand, custom software creation enables the implementation of strong security measures from scratch. This lowers the danger of future security risks and assures the protection of sensitive data.
Continuous support and maintenance:
Businesses benefit from continuing technical assistance and maintenance when using bespoke software. The software's development staff may deliver immediate support, upgrades, and problem patches if necessary. This helps to keep the software current and maintains seamless operation, reducing downtime and increasing productivity.
Flexibility and scalability:
With custom software, your business has complete ownership and control over the final result. This implies that you are free to alter it and utilize all of its potential in accordance with your company's demands. On the other hand, they frequently include license costs and restrictions on their use. Such restrictions are removed by specially created software, which provides total freedom and flexibility.
Integrating custom software with your existing company software should be easy if you employ developers or have them work for you. Furthermore, current operations may be carried out utilizing proprietary software without being constrained by an arbitrary API.
Optimizing processes and automating repetitive operations are the main goals of custom software development. Businesses may dramatically boost production and personnel efficiency by doing away with manual procedures and minimizing human error. Integrating bespoke software with your present company software should be easy if you have developers on staff or hired. Furthermore, current operations may be carried out utilizing proprietary software without being constrained by an arbitrary API.
Easy to add a mobile app:
A mobile app might provide you an advantage over your competitors in today's mobile-driven world. A mobile app may be seamlessly integrated into a bespoke software program, giving stakeholders—such as workers, clients, or customers—access to key features and capabilities while on the road. An enhanced client experience and more business prospects may be obtained by utilizing a mobile app to boost communication, teamwork, and customer engagement.
Businesses are constrained by the licensing terms and conditions imposed by the software supplier when utilizing off-the-shelf software. However, the firm is given sole product control through custom software creation. This indicates that the company has total ownership of the program and is free to distribute, improve, or change it as desired.
Conclusion
The majority of business owners nowadays need software development services for commercial purposes. You are now aware of the benefits of software development. Custom software offers bespoke solutions that match the particular demands of an organization, from personalization and cost-effectiveness to better security and scalability.