Why Restaurants Need Well-Executed Mobile Apps?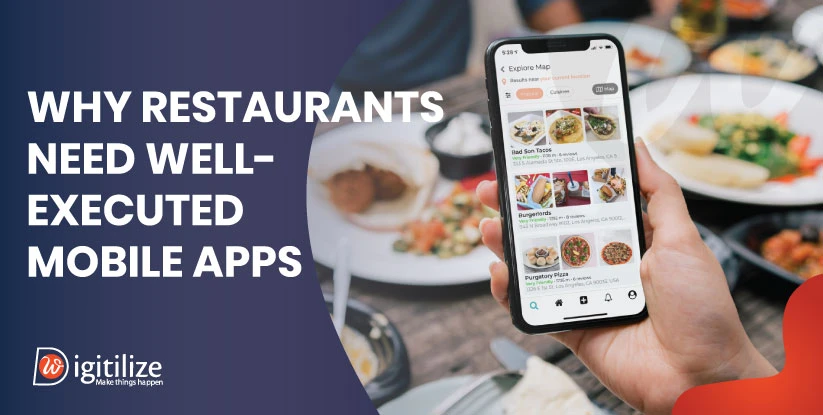 Every organization has been immensely empowered by digital transformation, and the restaurant sector is no different. The potential for a significant revolution in business has been recognized. So, we need to know why restaurants need well-executed mobile apps. The food and beverage industry is becoming more profitable thanks to mobile app development services. Restaurants can serve customers where they are because of digital technology. Smart business people adopt cutting-edge digital solutions to update their company models to stay ahead of the competition. The restaurant industry's change and how it benefited from mobile applications will be covered in detail in this blog.
Evolution in the Restaurant Industry: Traditional to Modern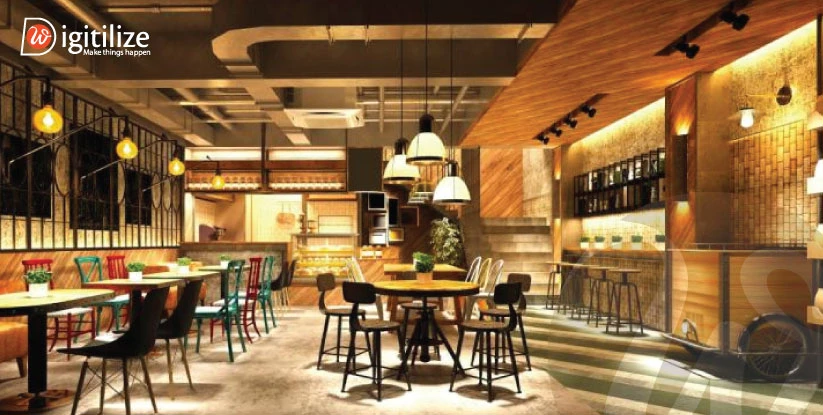 It's time to end the days of indoor playgrounds at quick service restaurants or camping at local coffee shops for work meetings by using mobile apps to order ahead and pick up your food just minutes later. If you ask us how was the traditional restaurant industry? Then, it was more in client-to-direct interaction. People are more used to going to restaurants to taste local eateries. Menus are limited; they represent the culture and roots of foods, and servers are used to remember customer preferences. At that time, no one even thought of the transformation that we have nowadays. These same people today have quickly changed since then and are now looking for eating alternatives that are more effective and adaptable. Digital ordering has risen surprisingly faster than dine-in traffic in the last five years. Quick-service businesses must develop their applications to keep up with demand as the restaurant industry continues to shift toward online and mobile ordering. Print media, paper coupons, and television advertisements are mostly relics of the past. Restaurants have the chance to reinvent how they communicate with consumers by utilizing technology solutions during this crucial move toward digital operations. They can now monitor conversions from online exposure and advertising, which enables them to test and strengthen their messaging to increase audience engagement. Technology makes dining more convenient and efficient, enhancing customer engagement through new and innovative methods. So, we will also discuss the benefits we are having after the technological transformation happened.
Benefits of having a mobile app in the restaurant industry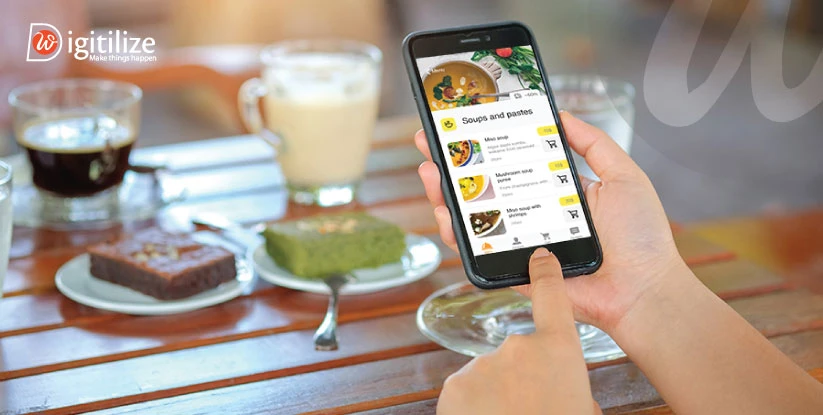 Fast food businesses and fancy dining establishments may benefit from mobile applications. These benefits are not only for business owners but also customers. The following are just a few of the many advantages that a mobile app may provide for you and your team:
The development of an app that enables your clients to reserve a table at their desired time from the comfort of their home or place of employment may be helped by experienced restaurant app developers. Visiting your preferred restaurant or contacting the help desk is unnecessary when there is an app. You may give customers a convenient eating experience due to your association with a skilled group of restaurant app developers. Customers may use their mobile devices to see the menu with the help of the restaurant meal delivery software. Like other meal delivery apps, it may be as simple to use.
Using referral systems may help your restaurant stand out, increase profitability, and bring more return business. When you try to handle them manually, they might be challenging. Running these initiatives is significantly simpler if your restaurant has a mobile app. You'll be able to maintain tabs on your trips, the money spent by others, and other information. All of your consumer information is organized and readily available using an app. When customers can use your program rapidly from their mobile devices, they will be more likely to do so.
According to 34% of consumers, each online buy they place costs at least $50. Additionally, 20% of consumers claim that when they order online or over the phone, they spend more money but don't need to face a rush, waiting at the table for the food. Customers are more likely to place larger orders and place them more frequently if your business has a user-friendly, well-designed mobile app. More sales and money in your bank account will result from this. Creating a restaurant app requires a significant upfront financial commitment. But in the long term, if you make it simpler for customers to order and enjoy your cuisine, you'll make more money.
Proper reach to customers
Applications for restaurants are one of the safest ways for a business to reach out to its neighborhood clients. Furthermore, it is generally known that localization can result in a significant rise in conversion rate. Through technology, restaurants may target local consumers in various ways, such as through GPS-based discounts and personalized marketing. Regardless of the method, the ultimate objective is an efficient, profitable use of the restaurant's order-taking software.
You may advertise your software on social networking sites to grow your user base. After installing the app and finding it intriguing, the consumer will have a favorable opinion of your brand whether or not they utilize it. You may also promote special days' deals in push notifications sent to users via a restaurant business app. Consequently, a successful and well-liked mobile phone-based meal ordering system has developed. This is only one of the reasons why eateries need mobile apps. The app constantly reminds customers about your company on their smartphones. Another crucial benefit that you shouldn't ignore is this one.
People may use mobile applications for more than simply placing takeaway orders and reserving tables at your restaurant. Additionally, it simplifies your life and the lives of your staff, especially when it comes to enhancing on-site service and giving consumers a better experience. Always keep in mind that mobile applications provide better online purchase fulfillment. Particularly during peak hours of the day, they assist your personnel in keeping track of incoming orders and reducing line wait times. Customers are more likely to return to your business in the future when they receive their food promptly and get to enjoy precise orders. Additionally, they'll be more inclined to tell everyone they know about it.
A smartphone app can assist you in producing more and better online reviews, especially if it has social sharing options. First off, when customers can quickly and easily recommend your restaurant online, you may receive more reviews. As a result of consumers praising how easy your app is to use and how much easier it makes the ordering/reservation process, you'll also earn better reviews. Additionally, you may utilize app plugins to send users of your app to external review sites like Yelp. People are more inclined to post reviews if it is simple for them to do so.  These third-party evaluations increase your restaurant's reputation in addition to helping you gain better search engine rankings and more customers.
Your app may assist you in seeing a greater return on investment when you conduct promotions and provide offers or discounts at your restaurant. Promoting these offers and promotions on your app reaches a larger audience, mainly if you utilize push notifications to grab users' attention and announce the news. Consequently, more individuals take advantage of the offer, which increases total spending and boosts overall earnings for your business.
Top features you should have in your next app.
Do you want to learn about the best features that may improve your app after knowing its benefits? Developers of restaurant applications must thus pay special attention to a few essential components to create the most practical, user-friendly software possible:
With the push notification, you can remind the client to book a table and inform them when their order will arrive. Additionally, you may offer to book a table in advance and receive a discount while reminding the customer about future holidays like Valentine's Day. A push notification is like a miniature flier that informs you of exciting events, deals, and new menu items. You can send alerts to your friends and visitors in only two minutes, so you don't have to wait for the paper to be promoted before distributing this flyer.
The menu is perhaps the most significant aspect of any restaurant app. Every element significantly contributed, from the photo's quality to the app's usability. The menu should be clear and concise, the food should seem appetizing, and the photography should be professional. A person may become disoriented and prefer to prepare a sandwich than selecting a meal to order when they have a wide variety of items in front of them. Another essential element of the online menu is smart filtering. Thanks to filters, the user may easily find the dish they need.
Numerous upscale restaurants only accept reservations for tables made in advance from the clients and do not accept walk-ins. With a valid reservation for a table, it is easier to visit some establishments that may be modest in size but provide high-quality food. Customers' difficulties with being unable to arrange a visit to their favorite restaurant must be eliminated with a table reservation option for the restaurant app. Pre-ordering is a crucial element of the restaurant's mobile app since it guarantees that your meal will be served 60% quicker and without any wait.
In the restaurant industry, chatbot technology is still a relatively new concept. However, the restaurant development industry is embracing it with open arms. AI-powered chatbots are no longer limited to answering simple questions; they are now capable of a higher level of personalization. Bots are currently capable of initiating conversations and dialogues with users. They can react to straightforward questions and provide details, offers, and discounts.
Nowadays, people want their food at their place, so order tracking is something you must include. This is one of the essential features that users must seek from any food delivery app. They want to track their order and stay updated whether it is getting late or on time. These are all the updates users nowadays want to have.
This is crucial for marketing, as customers share their experiences on Facebook, Instagram, etc. So, social media integration is essential.  Customers who refer their friends might receive bonus points for referring their friends on social media platforms like Facebook and Twitter. This will assist you in attracting new customers while convincing your present customers to make more purchases.
When processing payments, having clients pay straight through the restaurant app is advantageous. Customers who pick up their food won't need to look for their credit card. Order fulfillment may become easier to obtain and more effective as a consequence. The ideal scenario is if your customers tip you through the app.
Future of mobile apps in the restaurant industry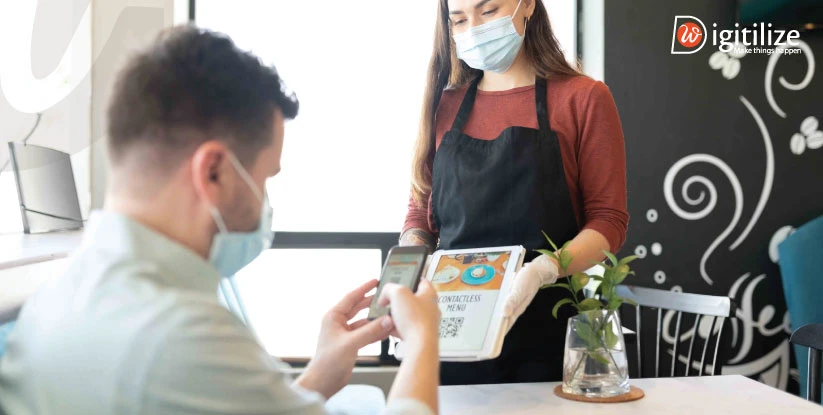 We are beginning the technology era; with time, people learn about AI, AR, etc. The pandemic has uplifted the restaurant industry; people are acquiring online services. It is just the beginning! By then, we will see much improvement in this industry. Chatbots are already implemented, powered by AI; this will also improve over time. AR will also make its presence in the restaurant industry; with the help of this, people will experience the 3D visualization of the dish they want. This innovation will reduce the gap between the physical and digital worlds. Voice integration will also take part; as we can see, this one has already started to be used, but the future one will be more accurate and advanced. Using your fingertip, you can get what you want just by saying. For now, these are the top future innovations that people will get regarding food.
The success story of app implementation in business
McDonald's used Instagram, one of the most well-known photo and video sharing applications worldwide, in addition to a mobile app.  The business sponsored a promotion in March 2013 to get consumers to snap photos of their preferred dishes using the mobile app. To entice customers to place an order, McDonald's released an app where users can access both the menu and special discounts.
The Starbucks app became popular in a recent food delivery and restaurant loyalty application poll. There's a reason why the Starbucks app is so well-liked. Customers may access various services and features using the Starbucks app. They may either scan their order and pay in-store or place an order in advance for pickup. Another feature of this smartphone app is the loyalty program.
Over to you!
The future of the restaurant industry with the mobile app is undoubtedly exciting. Having a mobile app with proper features is crucial. You can consider the above-discussed points for your upcoming app. So, are you sure spending money on an app is wise for your restaurant? Do you want to design an app that works effectively and fulfills the requirements mentioned above? Then what are you waiting for? Do contact us! Check our case studies and their transformation.