Top 20 Premier Web Design Agencies UK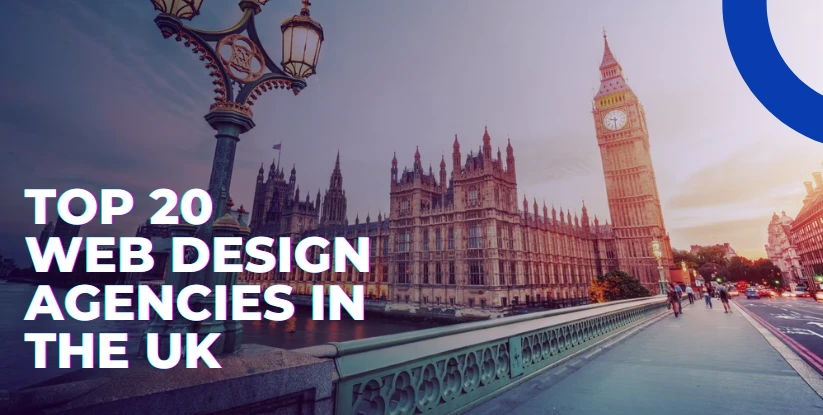 An impressive online presence is crucial for any business. To attract modern consumers, a versatile, user-friendly website with appealing theme-based images is essential. Building a decent website can be challenging, even for non-tech-aware users. You can always hire a web design agency to handle it for you and leverage their expertise. Don't risk your brand's reputation with a dull website. Check out our blog to discover the top Web Design Agencies in the UK for your website needs.
List of web design Agencies in the UK
1. Lime-up
Limeup Limited is a competent and experienced company; having been operating in London for more than one year providing full-cycle design solutions. Furthermore, as one of the oldest design houses in London, Limo-up specializes internally in disciplines such as branding, content marketing, SEO, custom web development, and web design. The team enriches the collaboration, decreases the time span of solution creation, and boosts the quality of the solutions by utilizing the internal experts.
2. DigitilizeWeb
Manchester-based DigitilizeWeb is a creative website design agency that offers a range of services, from building websites from the ground up to rebranding. Moreover, their main goal is to work with clients to turn their ideas into high-quality products through imaginative design and solid web development. They provide a full range of e-commerce solutions, including ecommerce marketplace, digital marketing, mobile app development, social media services, SEO, online branding, and web hosting plans for every type of business.
3. Kota
Kota is a London-based website design company that provides digital marketing services. Notably, they offer creative campaigns and design for email text & workflow management. Additionally, they specialize in social media management and design landing sites for email and paid social campaigns. Their main goal is to work with clients to turn their ideas into high-quality products through imaginative design and solid web development.
4. Polar creative
Based in Chelmsford, UK, Polar Creative is a reputable design, marketing, and website development firm. They deal with businesses all around the UK, thoroughly analyzing their goals, industry, and target market before providing frank advice on a design that will work. Its goal is to become the world's most customer-focused problem-solving organization. Early on, the business discovered that consumers believe their brand is unique and intelligent, and they intend to continue to improve.
5. Our Own Brand
Our Own Brand is a stand-alone web design firm in the UK. Furthermore, it's a multifaceted firm that provides branding, creative, production, social & digital, development, and digital marketing in addition to traditional advertising services. By pushing boundaries and bringing you out of your comfort zone, a collection of original thinkers who question the norm will take you to a place where the impossibly becomes conceivable.
6. Dsgn One
Dsgn One is another one of the top web design companies based in the UK. Furthermore, the company offers quality website design and SEO services that meet all the requirements of its customers across the United Kingdom. Regardless of clients' financial situation, the company offers a complete package of modern web design and digital services to strengthen their online presence. This includes online design, branding, social media promotion, e-marketing, and website creation.
7. IIH Global
IIH Global is considered one of the most sophisticated web design firms in the UK, owing to its exceptional approach and detailed nature. Furthermore, this company offers services such as responsive, UI/UX, e-commerce, specific web developments, graphic design, and SEO-friendly web designs, among other services. In a world known for their bespoke solutions, the company has managed to find a niche within the highly cut-throat industry of web designers.
8. Boost
Boost offers full turn-key solutions that assist companies in enhancing their productivity and efficiency. As a UK Web Design Company, they provide services such as UX/UI design, Technical SEO for Conversion Optimization, and Custom Designs. All these goals aim at boosting consumer awareness of the brand, thereby propelling its growth.
9. GLO- Global Leads Online
The web design firm GLO targets to provide unique services that lead to an increase in clients' leads. Moreover, With web design coming in numerous variations, working with GLO helps clients improve their UI designs, search engine optimization, and their reach in the market, all while increasing their return on investment. After designing a product, they provide analytics to check for lead generation and user friendliness.
10. Gray Cyan
Gray Cyan assists their clients with moving their Shopify or Squarespace websites to WordPress. Moreover, they also aid with WordPress version upgrades. In their opinion, WordPress websites are effective in terms of SEO, making it simple to increase traffic to your website naturally. Gray Can is a great choice because it has established itself as one of the top web design firms worldwide.
11. Complex Creative
A web design company called Complex Creative, with offices in London, provides a wide range of services to companies all over the world. Moreover, their main goal is to provide their clients with excellent web solutions that will increase their customer base and help them maintain their competitiveness. In addition to providing high-quality product launches and continuous support, they offer interface design, branding, and advertising.
12. Imaginary Cloud
An organization in the UK that specializes in web design and bespoke software is called Imaginary Cloud. Notably, they excel at creating powerful and effective websites, applications, software systems, and other solutions. In order to obtain services based on users' demands connected to business requests and be completely functional, the firms work with Imaginary Cloud.
13. Crystal Infoway
In the UK, one of the top web development businesses is Crystal Infoway. Notably, they have so far worked with both large industries and start-ups. Since its establishment in 2014, Crytal Infoway has finished more than 300 web development projects and more than 100 app development projects. They have a solid foundation, with seasoned developers and testers. Furthermore, a variety of technologies, including PHP, Laravel, Codelgniter, Next JS, Node JS, React JS, WordPress, Joomla, WooCommerce, and Magento, are used by Crystal Infoway.
14. Intelivita
Clients who want assistance with web development and mobile development may turn to Intelivita as a dependable partner. Moreover, it provides a range of services that will simplify clients' life, as it understands how valuable their time is. Notably, the development of PHP, WordPress, Codeigniter, Laravel, AngularJS, and NodeJS are all areas in which Intelivita has extensive experience.
15. Browser London
Custom software development for enterprises is the area of expertise for Browser London. They contend that each business is different from the others and should have a software solution that reflects this. Furthermore, the services provided by Browser London include support, design and development, UI/US design, product strategy, and continuous improvement. Hence, the talented developers at Browser London are dedicated to creating customized software that satisfies the unique requirements of its customers.
16. Nicklfox
One of the top web development companies, Nickelfox, has been in business for about ten years. Notably, Nickelfox has experience in app development, UI/UX design, and mobile development in addition to web development capabilities. Moreover, it works with customers of various sizes, including small, medium-sized, and large corporations.
17. Valiant Design
For more than a year, Valiant Design has been making specialized software. What's more, the brand strategy, brand design, digital development, and continuous marketing are all included in Valiant Design's services. Furthermore, the Valiant Design team can also be relied upon to provide eye-catching logos, colorful animations, successful campaign pages, and dependable websites.
18. GoodCore Software
The skilled web developers at GoodCore Software can assist you in building the ideal website or web application for your company. Furthermore, they provide a variety of services, including testing, UI/UX design development, desktop and mobile app development, system integration, and API development. Notably, the dynamic, responsive, and beautiful websites that GoodCore Software creates are its area of expertise.
19. Atomic
Custom websites and web apps are the firm's primary focus. Specifically, Atomic is a PHP web development company. They are aware that every company seeking to expand its clientele and profit must have a superb website and online presence. Moreover, they serve a worldwide clientele, collaborating with startups, established companies, and large corporations.
20. Silverchip
A web development company in the UK called Silverchip assists startups and established companies in creating user-friendly online apps. Notably, Silverchip offers extensive expertise in system integration, data management, gamification, and online and mobile development. Additionally, their staff serves both large and small businesses. Importantly, it is a trustworthy technological partner that consistently keeps deadlines.
Conclusion
Website design is the cornerstone of every online or software program; therefore, we've compiled a list of the best 20 web development businesses in the UK. Entrepreneurs may use this guide to select the best web design firm in the UK. Moreover, to assist companies in finding the best web development firm in the UK for their project, DigitilizeWeb has carefully researched and created this list.
Click to read more about 20 Best Web Development Companies in UK