How to generate more clients via social media marketing?
A strong customer base should be at the top of your priority list, whether starting a new digital firm or expanding your
social media
presence.
The fact that company owners now have more options for reaching their target market and attracting new customers is one of the many beautiful things about technology and social media progress. Today, Business owners see the benefit of interacting with their potential and existing consumers rather than openly promoting, regardless of whether they manage a small mom-and-pop shop or a massive business with hundreds of workers.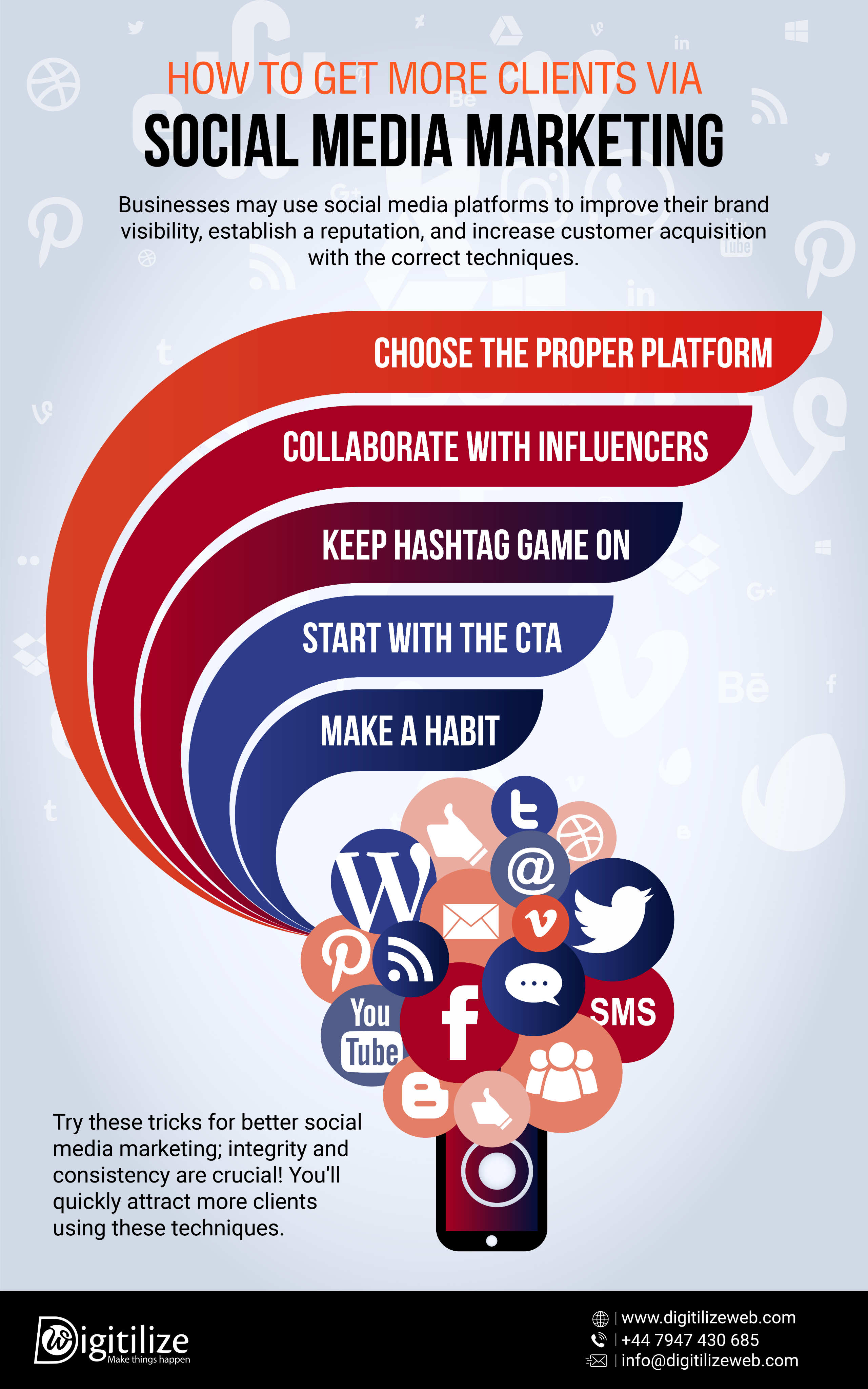 A billboard or newspaper advertisement no longer has the same impact as using a social media platform. The icing is that nearly any technological gadget, be it a PC, tablet, or smartphone, may be used to access social media. What steps may you take to use social media to grow your clientele? Do read this infographic to know more!
Select the proper platform
Although various audiences use social media sites, there are better courses of action than rolling out social media marketing initiatives across all social networks, at least not at first. Marketers should start by learning a few social media platforms. The top business platforms include LinkedIn, Facebook, Twitter, and Instagram. But there is also a place for other platforms, like Pinterest and YouTube, when promoting or advertising products. Each one's market positioning and use cases are distinctive.
Collab with the influencer
The usage of influencers has grown in popularity over the past several years. An efficient strategy to increase your reach and establish a reputation is to work with influencers that support your business and your target market. Look for influencers in your sector or specialty with a sizable following, and consider collaborating with them. This might involve coordinated marketing, sponsored content, or guest blogging. Utilizing the influencer's credentials and engaged audience may significantly improve your chances of attracting new customers.
Maintaining an Instagram presence is crucial if most of your clients are young. Even though many people still often use Facebook, many teenagers and other millennials spend most of their time on Instagram. How can you then utilize Instagram to increase the number of followers who will eventually become paying customers? You may develop your ideal Instagram audience by employing the use of hashtags. Use hashtags with the phrases "fitness," "gym," "healthy living," and "cardio," for instance, if you are a clothing brand that sells activewear. As a result, it will be simpler for Instagram users to find you, like your shot, and even follow you.
Include a compelling call to action (CTA) in your social media postings to drive audience involvement and conversion. The CTA should nudge visitors to perform a specific action, such as visiting your website, signing up for a subscription, or participating in a promotion. Remember that the CTA doesn't always have to be related to your goods or services. Inspiring people to offer their insights, stories, or ideas on a particular subject about your industry is another way to do it. User engagement may increase considerably, and an engaging CTA can attract potential customers.
Create a content plan to keep your audience interested and stick to a regular posting schedule. Observe the best times to post on each network as well as the preferences of your audience. Additionally, monitor how your material is received and adjust your plan as necessary. You will build credibility, trust, and top-of-mind awareness with your audience by continuously delivering helpful and pertinent material, increasing your chances of drawing in new customers.
Conclusion
If you're utilizing the right social media networks, your profile is kept up and appealing, and you don't spam every prospective lead as soon as you connect with them, getting new clients through social media may be simple. Always be the first to respond, but before doing so, ensure you are familiar with your customer and let them know you have done your research. Your business depends on acquiring customers, so ensure you interact with the finest ones and avoid wasting your time on those who don't require your services.