HOTEL BOOKING APP DEVELOPMENT – EVERYTHING YOU NEED TO KNOW?
The second-fastest expanding industry in the world is the travel sector. It has allowed us the freedom to go whenever we want and anywhere. Travelers may easily search, book, and manage their hotel rooms with a few taps on a mobile device. Making a hotel reservation app might be a successful business endeavor if you are interested in the hotel sector or app development. You may follow along with this post as it takes you step-by-step through creating a hotel booking app to learn everything there is to know about developing hotel booking apps.
Importance of hotel booking app:
People are increasingly fond of traveling, which has increased the profitability of the travel and tourism industry. After the epidemic, downloads of travel applications have increased by an unheard-of 2.31 billion percent by 2022. 2023 will see a few changes! The future of travel apps is bright since it is expected that between 2023 and 2027, the global travel and tourism industry will grow by 4.41%. But the question what is the reason for this massive growth? Here are the reasons why we need a hotel booking app:
The online reservation system is always operational. Because you are not constrained by working hours, it also boosts your sales.
A hotel reserve action system will improve the effectiveness of your operation.
With the online booking platform, payments are straightforward.
Any communication between the guest and hotel will automatically translate back and forth so there is understanding, leading to a better experience for all.
Additionally, the app may gather reviews following or, ideally, during a visitor's stay.
Users can access a vast hotel database with in-depth descriptions, images, and decision-making tools.
Since the statistics above and the reasons make it evident that developing a hotel booking app is essential for anybody contemplating this possibility, we now need to understand how these apps are developed.
Step by step guide for hotel app developments: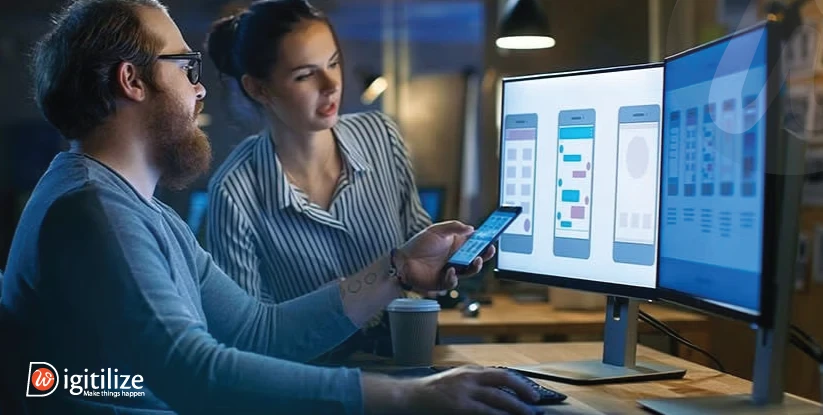 Developing a hotel booking app begins with identifying the strategy. A step toward success is having a clear plan. Therefore, carefully research and develop a plan presenting a clear image of your app concept. You must, throughout this stage of growth; Find the users of your app. competitors' research Identify app objectives Choose a mobile platform for your application.
Initial information gathering and organization would focus on the project's specifics. Gather the technology requirements to establish a development plan with clear parameters. UI/UX is used to generate the wireframe for each screen.
Based on the specifications and development vision based on the wireframes, the UI/UX design team creates a prototype for each screen.
At this point, a functioning app is created based on the prototype screen's specs. Every stage of development at DigitilizeWeb is broken down into sprints that include coding, testing, and deployment phases.
Testing the produced item is now required. This is under the control of the QA engineer. Once the issue report is prepared based on the test, the development team gets it to be repaired.
Before finalized products are released, bugs are corrected, and final touches are made. The application is ready to hit the market. The team iterates the product after the launch, considering customer input.
Updating and maintaining the final app is a routine procedure. The techniques above are complicated and time-consuming while appearing simple. If you want expert help or development services throughout any stage of the hotel app development process, you may contact DigitilizeWeb. Visit their website to learn more! But then again, the question arises that many hotel apps exist. How to make your one stand in this competitive market? What are the featuring things you must add to your app? Don't worry DigitilizeWeb is here to help you out!
Top featuring things you must have on your app: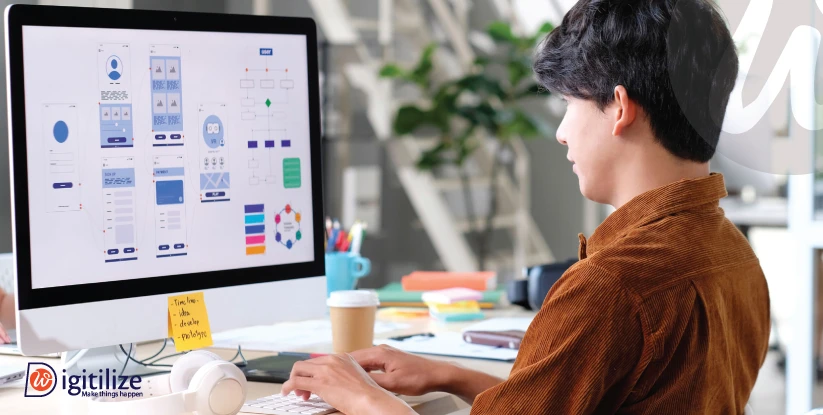 To not only draw in more customers but also to improve service and keep in touch with their customers, hotels must now more than ever invest in their digital presence. What characteristics should it have? Usually, depending on the situation. Ultimately, the app that was specifically designed with each brand's objectives and identity in mind won. But if you want to create the most excellent hotel app for your visitors, here are the key elements you should consider:
Today's users choose smartphones over spending hours on PCs. Apps are convenient and easy to obtain anytime and anywhere; thus, they are portable. Mobile devices are the preferred browsing method for users. Your solution must be user-friendly on mobile devices, and consumers shouldn't have any trouble using the functions.
If your app holds your hotel's primary contact information, such as phone numbers and e-mail addresses, your guests can access it immediately. Direct contact with the hotel's reception is made possible through a section dedicated exclusively to this.
You should present high-quality content (photos and copy) to showcase and highlight your rooms' quality in your app. You should be transparent and objective in your service so interested parties can make informed decisions.
Diverse language and currency
When you launch the app for everyone, you must keep the language and currency preferences. Supporting many languages and currencies may enhance the user experience and enable the product to reach a larger audience.
When utilizing a hotel booking tool with the necessary features, users may pay in several ways, including with credit cards, debit cards, app payments, net banking, and cash upon check-in.
Your hotel booking software design should have real-time alert systems for accommodations and travelers. While guests are there, it may advertise specific specials, packages, and offers in the hotel's restaurant and inform them of upcoming activities. You should provide your staff access to an excellent, user-friendly, interesting client-side app. These features may assist in streamlining your business operations and make everyone more happy, both clients and employees.
Final words!
An app for hotel reservations takes time and effort to create. There are many things to consider, from the app's technology to the user experience. This article has helped educate you on all the essentials of creating a hotel booking app. Apart from that, don't hesitate to contact us if you need any assistance with app development!