ISO 9001 Certified

Web Design Company UK
We are pleased to announce that DigitilizeWeb has received ISO 9001:2015 certification. This acknowledgment is a testament to our adherence to standards as we work to improve our company's effectiveness and quality. As an iso certified web design company uk, we offer the highest quality results.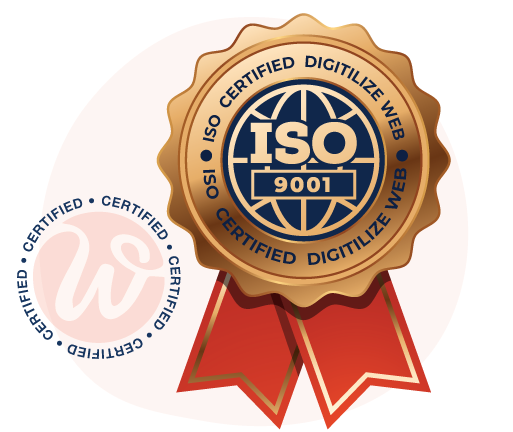 DigitilizeWeb: Providing High-Quality Digital Solutions to Businesses
One of the quality management system standards, ISO 9001:2015, may help any firm perform at its peak. It permits the business to comprehend the procedures for providing clients with the most significant goods and services that adhere to global standards. The following are some advantages for our clients of working with us as an iso certified company:
It proves that we are dedicated to upholding excellent standards in every facet of our business.

Our priority is understanding our customers' needs, delivering solutions that exceed their expectations, and offering superior customer service.

Understanding customer needs, keeping open lines of communication, and responding to any concerns or problems as soon as they appear are our priorities.
We must understand client requirements, maintain clear communication lines, and promptly address any concerns or issues that may arise.
Communication that is transparent and open helps build strong client relationships and fosters collaboration.
What makes us Unique?
Our ISO 9001:2015 accreditation demonstrates our commitment to providing our customers with superior digital solutions. We specialize in software development, online applications, mobile app design, digital marketing, and more. In addition, you have access to several benefits by choosing to engage with a business like ours that has received ISO certification.


Standardization & Consistency
This encourages consistency in providing goods and services, guaranteeing that customers receive the same quality standard throughout all initiatives. Ad-hoc procedures and a lack of standardization may be present in non-ISO-certified businesses, leading to variable results and client experiences.


Get Recognition
Clients who work with an ISO-certified firm may rest easy knowing they are partnering with a business that adheres to high-quality standards. Conversely, companies that are not ISO certified could not have this well-known accreditation, which could cast doubt or cause concern about their dependability and quality. These elements help iso certified company deliver services greater in quality, consistency, customer satisfaction, and dependability.


Risk Management
iso certified web design company uk has procedures to evaluate risks, create mitigation plans, and guarantee business continuity. Companies that are not ISO certified could have less structured risk management procedures, which makes them more susceptible to unanticipated problems and interruptions.
Our wide range of services
Our wide variety of services at DigitilizeWeb is intended to suit all of your digital demands. Thanks to our expertise in web application development, mobile app design, and software development, your digital solutions will be customized to meet your unique needs.
We are experts in digital marketing services, including social media management (SMM), online reputation management (ORM), and conversion rate optimization (CRO), assisting you in establishing a solid online presence and maximizing the return on investment from your digital marketing efforts.
Our analytics and reporting services give you helpful information about the effectiveness of your website and digital marketing. You may build user-centric interfaces that improve usability and encourage interaction with the help of our UI/UX design consulting.
We provide training and assistance to help your employees efficiently use digital technology. Additionally, you may keep one step ahead of the competition and achieve sustainable growth with our IT consulting and strategic services.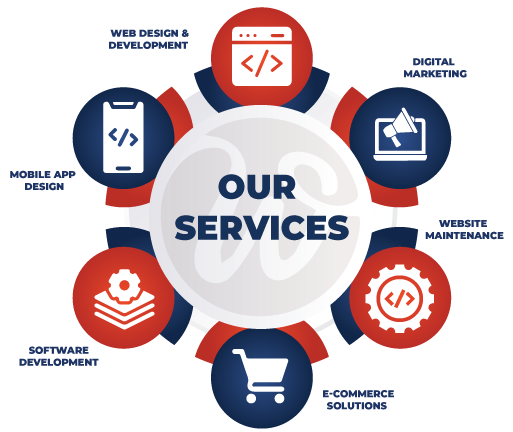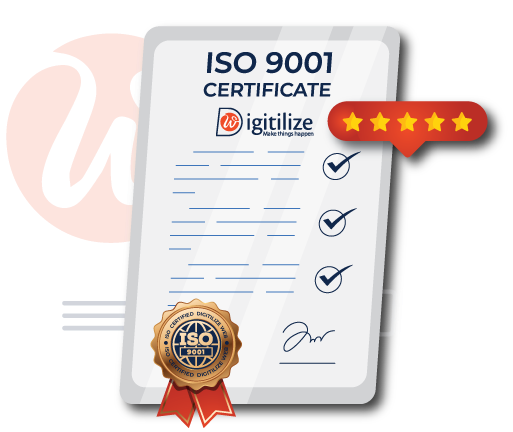 Why did we opt for this certification?
We chose to pursue ISO 9001:2015 certification because it is consistent with our core principles of quality, customer satisfaction, continuous improvement, and risk management. In addition, it strengthens our resolve to provide exceptional digital solutions to our clients, offers us a competitive advantage, and improves our reputation.
It shows our customers that we follow globally accepted quality standards and have the systems and procedures to produce excellent outcomes consistently. 


As long as we follow the guidelines in this standard, we'll be accountable for assessing our procedures, determining where they may be improved, and putting those improvements into practice.

By putting in place a robust quality management system, we can better provide solutions that meet the demands of our clients and increase their happiness.

We exhibit our attention to upholding strict quality standards across our operations by acquiring the iso 9001 standard. This accreditation is concrete evidence of our dedication to excellence.
Takeaway!
At DigitilizeWeb, we provide high-caliber digital solutions that help companies succeed in the digital era. You may be sure that our services adhere to the highest industry standards thanks to our Quality Management System, which is ISO 9001:2015 certified. To begin your road toward digital transformation, contact iso certified web design agency immediately.
Frequently Asked Questions